THANKS TO ALL YOU LOVELY CHERRIES WHO TOOK PART IN MY FIRST CHALLENGE!
SUPER-SCIENTIFICALLY-CHOSEN AT RANDOM IS SANDI0805 ! Congratulations Sandi and as soon as I figure out how you will be getting a $5 GC.
Look for my OCT Halloween Questionnaire as part 1 of the Oct Old is New Again Challenge.


Hey ladies! I've been around long enough now I thought I would also like to host some challenges, to give something back. I had a couple ideas along the "Old is new" theme over the past little while, and I picked the one to start off that I thought was most offbeat… so take part if you have the interest, and if you like them I will keep them going!
So the Sept Old is New Again challenge is this:

Ugly Trend

– There are always trends that come out that you don't like – Crocs come to mind!! They sure are ugly but they are comfortable, right ? Some people like them for gardening or wearing to work, I like mine for camping. How about UGGS? Right there in the name.
So I am also sure there are kits or gifts you've gotten with that one piece of paper that is so UGLY you'd never use it. Well I want to see that ugly paper! Dig down deep in your stash and pull out your UGG!
Significantly use paper you think is ugly on a LO. Rethink it to make it work for

something .
When I first saw this paper I wanted to throw it out I thought it was so ugly, but I hate to waste anything. And then when I got these pix of my son and his friend, I knew immediately I had the perfect paper !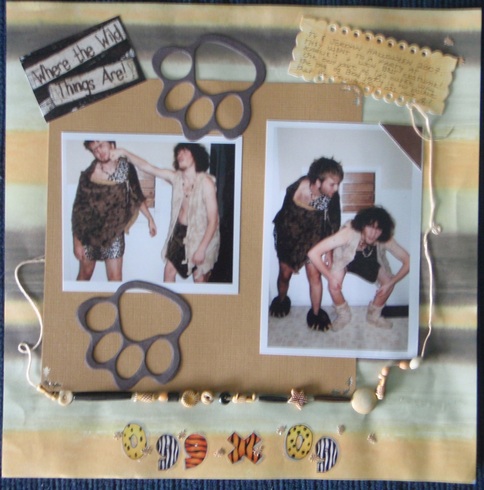 Fine Print:
1. You may submit more than one entry if you are not combining with anything else.
2. If you are only submitting one entry you may combine with any other challenge that allows it, just let me know which one.
3.Due Sept 30 2013 Midnight, winner will be randomly chosen for a $5 ACOT gift certificate.
4. Have Fun!
-
**PS>> This is not an insult to anyone's tastes, we all have our own ideas and preferences.
-
I made a gallery so please post here in the thread and also in the gallery. Thanks!
Thank you to the lovely cherries taking part:
1. jrrah4903 - Jillian
2. Deanna13 - Deanna
3. butterfly843 - Jenn
4. Scrap Bug - Melissa
5. Retiree3 - Donna
6. blbabe1234 - Brandy
7. Scrappy Distractions - Lisa
8. Sandi0805 - Sandi