I smiled at every one of these great pages! What a wonderful job everyone did! Thanks so much for doing this challenge!
The random winner, courtesy of Random.org is... #2
lesmitch
Congratulations Leslie! I will be sending you your ACOT gift card shortly!
-----------------------------------------------------------
My challenge this month is to use the title of any Christmas song for your title. Part of Carolyn's Christmas challenge for this month is also to use the title of a Christmas song for your title, so to keep mine different I added a different twist to mine. For my challenge you must also use a lyric from the same song somewhere on your page (thank you to Brandy for the idea).
Open to paper, digi, hybird, cards, crafts or whatever this inspires you to create.
May be combined with another challenge if that challenge allows it (see Carolyn's Christmas challenge for this month hint hint).
Multiple submissions are allowed.
Post your creation to this thread and also to the December Music Challenge spot in the gallery by January 5 at 11:59 pm. A random winner will win a $5 ACOT gift card from me! ***Note the extra time this month***
Most of all have fun, and enjoy the holiday season! I can't wait to see all of your festive pages!
Here is my page. I used the song title "It's Beginning to Look a lot Like Christmas" for my title, and I also used the lyric "everywhere you go" from the same song.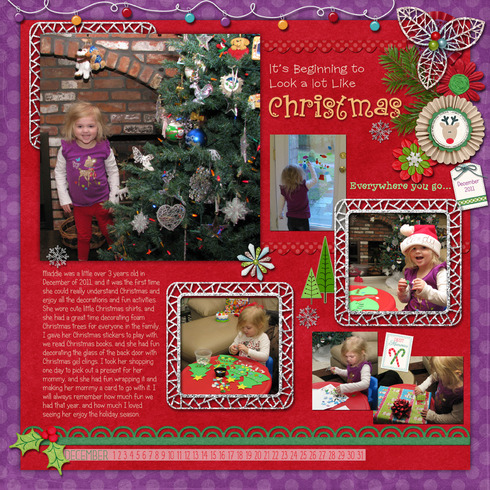 Participants:
1) CarrieG
2) lesmitch
3) sweetsour
4) blbabe1234
5) letumom
6) Retiree3
7) MacSarah
8) Deanna13
9) cajenkins81