Random.org picked #6 and that's
Joannie
!! Congrats!! Thanks to all who took time out to do my challenges this month.
****************************
Even though December brings the holiday season, time with family and friends, lots of yummy things to eat, and celebrations, after Christmas there is a time of reflection on the old year and thinking of new things to come. I personally (me and my family) have been through a heck of a time this year. I had what I thought was the job I always wanted, lost it, and was forced to find something new. What I have now is more than I ever could have imagined and more. I have an amazing job, but in the process, I had to move across the state and leave behind everything we knew. From last January, to now so close to the end of the year, we live in a new house in a new town across the state, with a new fabulous job, with new friends. I also will be celebrating both my kids' birthdays next week, which means I will now have a 5 year old and a 2 year old! SO many things are different at this year's end, but so much to be thankful for.
So, this is your chance to reflect on all the challenges of the past year! For this challenge, you may pick ANY monthly challenge from the past year (not counting November, since there's already a rewind challenge for this). If you're like me, there's at least one or two that you didn't get a chance to ever get to. While we do have the Rewind challenge and I have taken advantage of those a lot, there are some from previous months before that, which I want to actually still get to. So this is your chance! Pick any challenge from the lists below – except the rewind challenges
– and get to scrapping! For those of us who have been around a while, you may already know which one you want to do (I did!) but for others, you might have some digging and reading to do to
see what all the challenges are. Have fun!
Here's my Example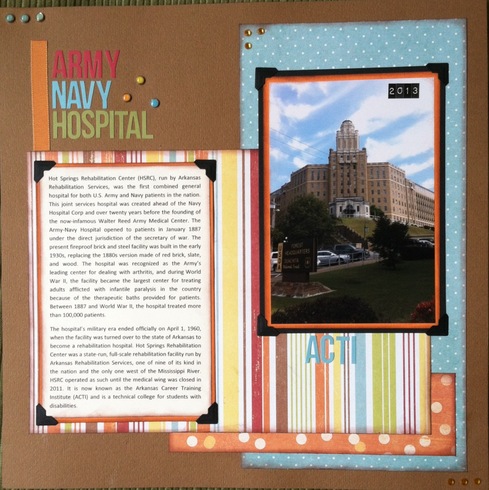 It's from Kim (killarney rose)'s October Heritage Challenge - scrap a pic of a building over 50 years old. It just happens to be where I work, and I'm fascinated with the history of this building! I had good intentions but October was impossible, with us moving and such. And then November was playing catch up.
October Master List
viewtopic.php?f=25&t=250020
September Master List
viewtopic.php?f=25&t=249647
July/August Master List
viewtopic.php?f=25&t=248822
June Master List
viewtopic.php?f=25&t=248445
May Master List
viewtopic.php?f=25&t=247600
April Master List
viewtopic.php?f=25&t=247234
March Master List
viewtopic.php?f=25&t=246933
February Master List
viewtopic.php?f=25&t=246617
January Master List
viewtopic.php?f=25&t=246254
Rules:
Open to Paper, Hybrid, Digi
Does NOT have to be a Christmas Layout, but you're certainly welcome to make it one if you like.
Must be uploaded here and to the Gallery created for it, by Dec 31, 11:59 pm. 1 random winner will receive a $5 ACOT GC!!
You may submit up to THREE entries/layouts for this challenge.
May NOT be combined with any other challenge.
Wonderful Cherries Participating:
1) Karrie/sweetsour
2) Donna/Retiree3
3) Brandy/blbabe1234
4) Deanna/Deanna13
5) Barb/pawprints