Happy New Year everyone!
What's in fashion for January 2014? Scarves! And not just any kind of scarves, but ones with a unique twist - like polka dots and glittery borders and sequins and ribbon!
So far my challenge, if you choose to accept it, is to create a layout or card or project with layers (at least 3) and using at least one of the above scarves for your inspiration.
You can choose to layer your papers/embellies and use
polka dots somewhere (think paper or stamps or washi tape)

Or add a glittery border

Or use sequins (whether its a line like the above example or a sprinkle of sequins)

or decorate your project using ribbon or washi tape

use a color blocking technique
Please let me know which scarf inspired you to do your project and if you use more than one, you'll get a bonus entry!
You may combine this challenge with another one. However, you may only enter ONCE because you're getting a chance for a bonus entry if you combine scarves.
I have not done my example layout just yet, but will hopefully have it ready by tomorrow.
Finally! My example!!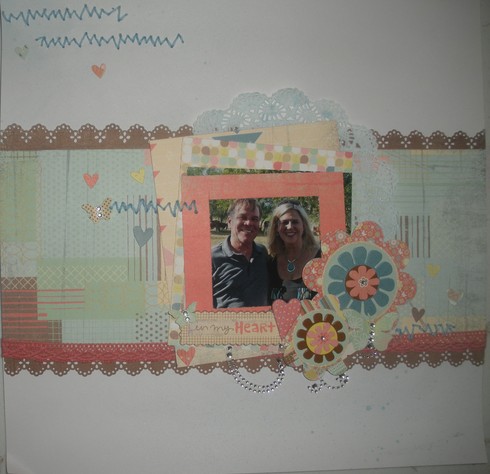 I chose some polka dot patterns in my paper, with using ribbon as well. I am also combining it with the Technique Challenge (border punch and stitching)
Please place your project in the gallery folder that I have created or you can place it here.
Due February 2nd
at 11:59PM. Open to all - paper, digi, hybrid, crafts and cards.
If you have any questions, just ask! And remember, have fun!
************************************************************
Wonderful cherries who participated:
1. CarrieG/Carrie
2. CarrieG/Carrie
3. ernstem/Beth
4. ernstem/Beth
5. Deanna13/Deanna
6. Deanna13/Deanna
7. MacSarah/Sarah
8. MacSarah/Sarah
9. MickeyM/Mickey
10. average_kim/Kim
11. average_kim/Kim
12. Retiree3 /Donna
13. Retiree3 /Donna
14. emmapaige /Chris
15 emmapaige /Chris
16. scrapy1967 /Janet
17. jrrah4903 /Jillian
18. butterfly843 /Jenn
19. christinec68 /Christine
20. christinec68 /Christine
21. scrappinmom99 /Anne-Marie
22. scrappinmom99 /Anne-Marie
23. sweetsour /Karrie
24. sweetsour /Karrie
25. oceanbreezes423 /Susan
26. mgehrke /Mildred
27. mgehrke /Mildred
28. Charleneanne /Charleneanne
29. Charleneanne /Charleneanne
30. scrappininAK /Heather
31. lesmitch /Leslie
32. kguercio /Kelly
33. Krystle /Krystle
34. joannie /Joannie
35. SherrieLynne/SherrieLynne
36. SherrieLynne/SherrieLynne
37. Sandi0805 /Sandi
38. Sandi0805 /Sandi
39. PezKat /Katrina
***********************************************************
Thank you to all who participated! Random.org selected #7 - MacSarah/Sarah and #24 - SweetSour/Karrie! Congratulations ladies! I'll send you your GC at the end of the week!