The winner this month is Carolyn (cajenkins81)!!!  Congrats Carolyn, you GC should be in your basket shortly!
For those last minute scrappers please take a deep breath and you have until FEB 16th to finish this challenge!  See below.
Hi Everyone!  Back and moving along with getting my example done late last week and working on Larry's Basic Grey Calendar he received for his Christmas.  Thank you for your patience with Larry's uncle's passing..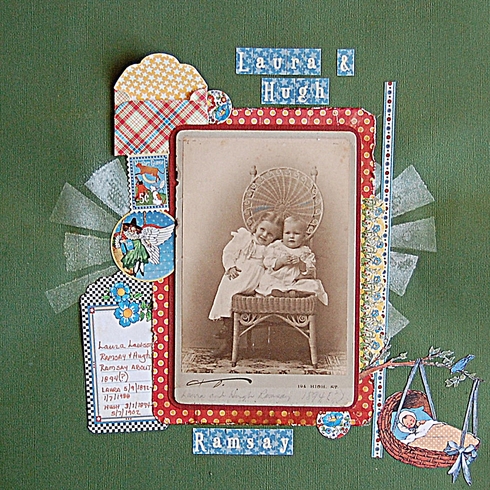 This is a photo of my maternal grandmother's sister and brother Laura Lawson and Hugh Ramsay, taken about 1884.  Laura was born in 1892 and Hugh in 1894.  I'm thinking it was late 1894 as he's sitting upright so nicely.  The writing at the bottom says (1894 ?)  Laura and her second husband Johnny Johnson were the founders of the Cape Codder newspaper in 1950.  I never met Aunt Laura as she and my grandmother had a pretty good falling out.  Today though I have found a second cousin who I will be contacting sometime this week.  Laura passed away in 1988 and Hugh in 1902.
Last month Ayla became so excited upon receiving some family photos!  I'm excited for her!  She mentioned doing a layout on siblings.  So in honor of siblings in our family this month I want you to choose from the two choices:
1)  Choose a photo of siblings at least two or more generations older then you and scrap it.
2)  Choose any photo of siblings at least one generation older then you that are 40 plus years of age.
Since I'm so late getting this done I will be closing this challenge on Sunday, February 16, 2014 at midnight and announce winner on the 17th.  I am
not
putting a gallery up for this layout.
Winner will receive from me a $5.00 GC.
Wonderful Cherries Participating:
1)  SweetSpotKay
2)  blbabe1234 ~ Brandy
3)  joannie
4)  Sweetsour ~ Karrie
5)  cajenkins81 ~ Carolyn
6)  lesmitch
7)  Deanna13 ~ Deanna
8)  retiree3 ~ Donna
9)  Art_Teacher ~ Laura
10)  Sweetsour ~ Karrie
11)  Anazelia ~ Ana
12)  Ayla ~ Nancy
13)  sandi0805