random.org chose #5
Congrats MacSarah!!!!!  GC on the way!
Hi ladies!  Yes, it's a day early for the challenge to go up!  Early last week my great-niece asked Uncle Larry and Aunt Kim for her birthday party wish.  She's just too cute for a coming 10 year old!  Her birthday is this coming Wednesday and tomorrow her wish will be granted with a family get together so she can have a Wagyu Steak.  Now that is proof positive that a 10 year old will give up a birthday party with friends to eat a steak that makes you remember it with great fondness.  It is one of the greatest eating experiences you can ever have.  We have 18 Wagyu Rib Eyes going on the grill tomorrow!  Happy Birthday Harley!
So the challenge goes up today!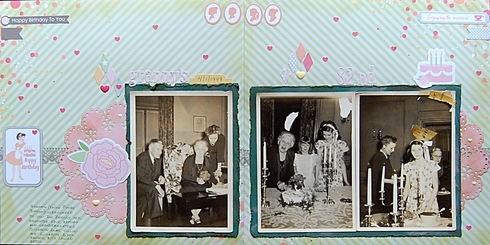 As you have read we are celebrating a birthday this weekend.  But....I had decided the challenge before Harley asked her birthday party be at the ranch.  My layout will be of photos of a birthday party in 1949 celebrating my Great-Grandmother's birthday.
Let's do a little celebration.  Your challenge is to choose photo(s) 10 years and older with at least one person in one of the photo(s) a minimum of one generation older then you.  The celebration can be any celebration, any holiday, any graduation, a birthday, a wedding, family reunion, etc!!!  No other qualifiers!
No Heritage Gallery will be up.  Post your layouts here by 11:59 PM ACOT Time Feb. 28, 2014.  Please link the photo so I can leave comments for your beautiful work!  Winner will receive from me a $5 ACOT GC as chosen by random.org.  And yes you can enter as many times as you wish.
Wonderful Cherries Participating:
1)  SweetSpotKay
2)  Retiree3 ~ Donna
3)  SweetSour ~ Karrie
4)  Deanna13 ~ Deanna
5)  MacSarah ~ Sarah
6)  ScrapBug ~ Melissa
7)  SherrieLynne
8)  mgehrke ~ Mildred
9)  sherelm ~ Sher
10)  anazelia ~ Anna
11)  blbabe1234 ~ Brandy