I had so much fun with my photo prompt challenge during CHA that I decided to do another like it for a monthly challenge!  This is a Pinterest-inspired challenge, but if you don't have a Pinterest account, you can still play along using the photo prompt I'm supplying from Pinterest.
Here are the spec's:
1) Using a photo/image from Pinterest (or the one supplied below), create a new project inspired by that prompt. 
2) Your project may be a scrapbook layout, card, home decor, art journal entry . . .anything crafty!
3) Traditional/digital/hybrid are all included.
4) Post your entry in this thread (I won't make an individual spot in the gallery), and share your inspirational photo (or state that you're using the prompt), and then tell me what about it inspired you.
5) Multiple entries are allowed.
6) You may combine with
one
other January challenge.
7) Due midnight CST on February 28, 2014.
8) Winner from list of participants will be chosen by random.org for a $5 ACOT gift card.
If you have any questions, please don't hesitate to ask.
Here's my Pinterest-inspiring photo for this month (it is linked to the source):
And, I'll have my examples up soon!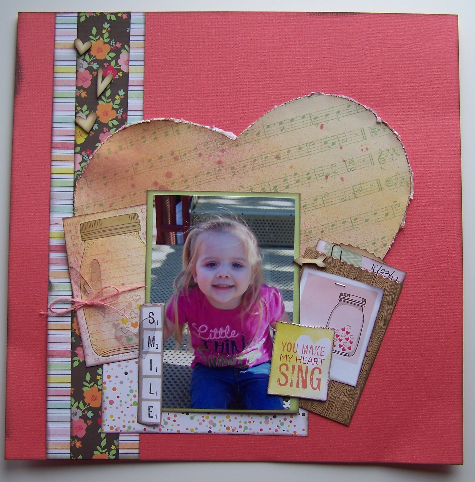 For my layout, I was inspired by the photo to use these papers from the AC Neapolitan line, especially the jars with the hearts in them!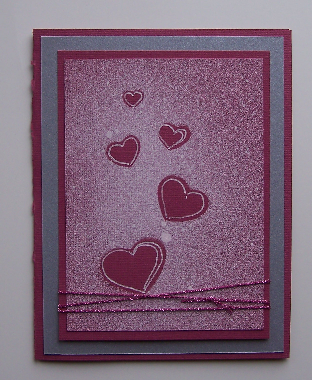 For my card, I was inspired by the photo to use die cut hearts as a mask for my white misting.  Then I tied the metallic floss around the base kind of like how the ribbon is tied around the jar in the prompt.
Can't wait to see what you all come up with!  Have fun cherries!
Cherries participating:
1) tymegsmom
2) Heather/scrappininAK
3) Susan/oceanbreezes423
4) Darlene/CherryTat
5) Donna/Retiree3
6) Karrie/sweetsour
7) Craftyshannon
8) Carolyn/cajenkins81
9) CarrieG
10) Brandy/blbabe1234
11) Jenn/butterfly843
12) Bonnie/blfonty
13) Lauri/letumom
14) Sarah/MacSarah
15) Lori/croppinmama
16) Deanna13
17) Heather/scrappininAK
18) Heather/scrappininAK
19) Heather/scrappininAK
20) mguercio
21) jillian/jrrah4903
22) lovetostamp
23) Lisa/scrappydistractions
24) PezKat
25) Sandi0805
ETA: Extending the due date until Midnight, Sunday, March 2, 2014!

And, the winner (according to Random.org) is #1--Tymegsmom!  Congrats!  And, I'll get your gift card to you soon!