Our technique challenge for this month is to use those 6x6 pads of patterned paper that are popping up in alot of brands lately. I have a few and I really don't use them very much but I love the tiny prints. So thought I'd try to work on that more.
You must use 3 or more 6x6 patterned paper sheets.
If you have no 6x6 paper pads then you can cut your own or brands like We R Memory Keepers have paper with the backside sectioned into 4 6x6's if you have any of that. OR there's also lots of varieties for sale in the ACOT Store. You don't have to use the whole 6x6 sheets, you may cut them. 
You must also use a Border Punch.
If you don't have any then handcut a decorative piece.
For your layout background, you may use a sheet of cardstock or a decorative 12x12 like I have.
For my example I did use a decorative background patterned paper and all other papers are from the 6x6 pad. My banner strip across was made from 2 smaller pieces that met under my photo. I used a Martha Stewart Daisy Border Punch.
Sleeping Beauty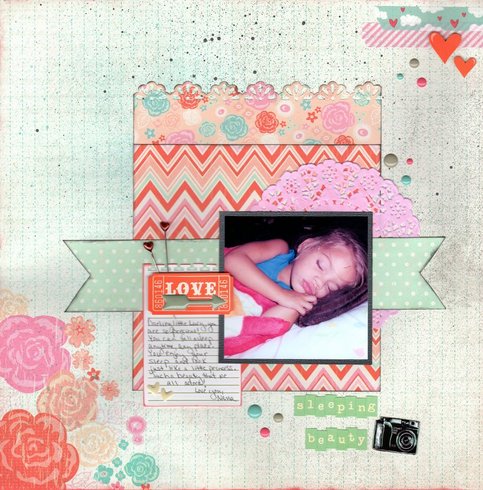 For the fine print....
This can be paper, digi, card, or a project. All work must be new. You may do this 1 time. You may combine this with one other Challenge that allows that. Please link your work here along with the "March Technique Challenge Folder" in the gallery. Deadline is March 31st. A random winner will be selected for a $5 ACOT gift card!
Hope you have fun using some 6x6 papers! 
-----------------------------------------------------------------
Cherries Participating:
1. Mildred (mgehrke)
2. Carrie (CarrieG)
3. Karrie (sweetsour)
4. Kate (kate W.)
5. Carolyn (cajenkins81)
6. Shannon (Craftyshannon)
7. Sarah (MacSarah)
8. Tammey (tmp718)
9. Joannie (joannie)
10. Mickey (MickeyM)
11. Steph (scrapsteph)
12. Bonnie (blfonty)
13. Chris (emmapaige)
14. (Yankeegirl)
15. Donna (Retiree3)
16. Charleneanne (Charleneanne)
17. Anne-Marie (scrappinmom99)
18. Jenn (butterfly843)
19. Heather (scrappininAK)
20. Brandy (blbabe1234)
21. Lisa (ScrappyDistractions)
22. Sandi (Sandi0805)
23. Janet (scrapy1967)
24. (jlmr)
25. Kim (average_kim)
26. Melissa (Scrap Bug)
----------------------------------------------------------------------------------------------------
It's time for my March Technique Winners!! According to random.org........
Winner of the $5 ACOT Gift Card is.....
15. Donna (Retiree3)
(I'll be buying it shortly.)
Congrats Donna!!
Winner of the RAK is......
14. (Yankeegirl)
Congrats! Please pm me your name and address.
Thanks so much to everyone who took my challenge this month!
--------------------------------------------------------------