What's in fashion for March? Sheer, thin fabric (think spaghetti strapped slinky dresses or silk camisoles). So basically we're starting to show some skin!
With that said, for my challenge, I'd like you to create a project that uses a neutral background (white, cream, black, brown, or tan); along with something that would be consider almost see- through. You can use transparency, vellum, a sheer washi or ribbon. AND...if you use ribbon or washi or borders on your project, make them skinny! (to represent those spaghetti straps).
Here is my example: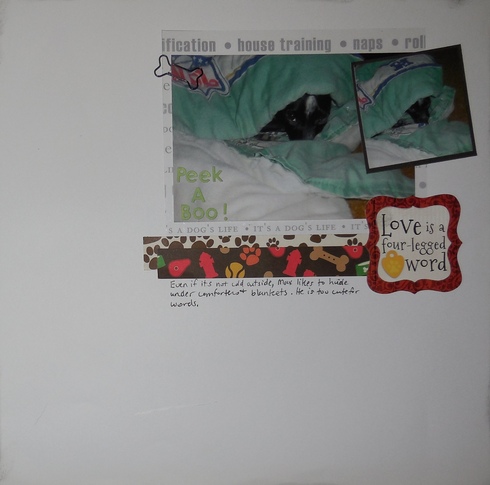 I chose a white background and a Creative Imaginations transparency that I used to mat my large photo. The "skinny straps" are the thin pattern paper strips.
So here are the rules:
1. Paper, Digi, Cards, and Crafts are all welcomed.
2. Please link the project to here in the thread.
3. Please submit by
APRIL 3rd
at 11:59PM CST (Please note the date. Since I'm late posting this, I'm giving ya'll a couple more days
)
4. You may combine with another March Challenge if that challenge allows combining.
5. Multiple entries are allowed.
Please let me know which your "sheer" item is,  (if its hard to see)
One random winner will receive a $5 GC to ACOT.
Any questions - please ask!
And have fun!
Wonderful cherries participating:
1. mgehrke /Mildred
2. CarrieG /Carrie
3. Craftyshannon /Shannon
4. scrappininAK /Heather
5. scrappininAK /Heather
6. MickeyM /Mickey
7. scrappininAK /Heather
8. cajenkins81 /Carolyn
9. cajenkins81 /Carolyn
10. sweetsour /Karrie
11. scrappininAK /Heather
12. emmapaige /Chris
13. Deanna13 /Deanna
14. wheeliegirl /Donna
15. scrappininAK /Heather
16. average_kim/Kim
17. pawprints /Barb
18. scrappininAK /Heather
19. scrapy1967 /Janet
20. Sandi0805 /Sandi
21. ScrappyBug /Melissa
22. tmp718 /Tammey
23. christinec68 /Christine
*Please Note, we have hit 20 participants, so I'll be rewarding TWO $5 GCs!
Thank you for all who participated. Random.org selected #2 - CarrieG and #16 Average_kim! Congrats Carrie and Kim! I'll be getting those GCs out to you before I leave on Vaca!