We all have heard the fashion rule: No White After Labor Day! Well, you know what I have to say that? Wear white whenever you want!
So for this month, I'd like you to use a white background, and pick one other color to pair it with. You can go pastel, or you can go bright. Its totally up to you. And, polish off that layout with a metallic! Gold, silver, bronze, copper! Just pick one!
Here is my example, featuring my sweet little girl Penny Lane: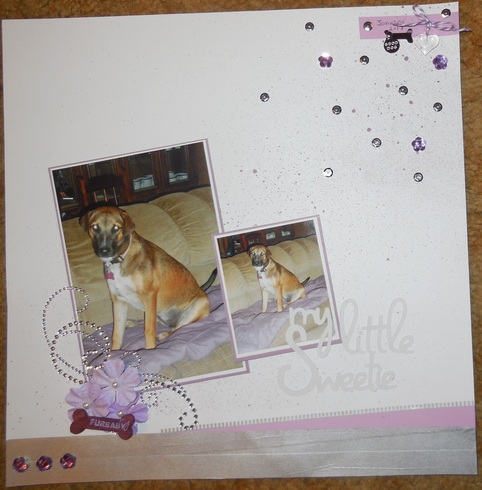 I used lilac as my color to use, which I pulled from the comforter that is in the photos. My metallic is silver.
To recap, here are the rules:
Background MUST be WHITE

Pick ONE more color, along with ONE metallic

You may combine with one other September Challenge

Multiple entries are okay

Open to all mediums - paper layout, digi layouts, crafts, cards

Due October 5th, at 11:59PM CST

Random winner will be selected using Random.org. Prize is ACOT GC!
Have fun! If you have any questions - just ask!
Cherries who have participated:
1. pawprints/Barb
2. Shutterbug/Kimber
3. scrappininAK/Heather
4. EmtAimee734
5. suewho372/Susan
6. average_kim/Kim
7. shoorn /Susan
8. sweetsour/Karrie
9. slwhew/Hannah
10. joannie/Joannie
11. tmp718/Tammey
12. meterr70/meterr70
13. Charleneanne/Charleneanne
14. Christi_S/Christi S
15. MacSarah/Sarah
16. emmapaige/Chris
17. Yankeegirl/Kathy
18. andysmom/Sara M
19. Retiree3/Donna
20. keatonsgtgram/keatonsgtgram
21. Sandi0805/Sandi
22. lesmitch/Leslie
*******************************************
Thank you to all the wonderful cherries who participated in my challenge!! Random.org chose
#7 - shoorn /Susan
. Congrats Susan and I will be sending you your GC by this afternoon!!