Thank you Cherries for such a wonderful turnout again. I hope these challenges are helping you use your washi more. I used Random.org for both my winners this time. The first place winner of a $5 ACOT gc is #4 - ncokely. I will purchase that right away. The second place winner of a new roll of Washi tape is #32 - emtAimee734 (please PM me your address and I will get that in the mail for you).
Let's get a little more creative this month. This is my most favorite LO I have done with Washi. All the bright colors that you see are Washi Tape. What I did was placed my Washi on a 12x12 piece of white cardstock. Then I gradually cut out my design (the curves of the paper) and then placed it on my LO. By placing the Washi on the white paper, the true colors of the tape came through.
What I want you to do is to get all of your Washi together like I did and make it go totally across your page and also instead of having it straight, be creative and make a design of some sort.
Rules:
For Paper, Digi, Hybrid Scrappers and Card Makers.

Post to this thread and/or the gallery by midnight October 31 - CST.

Multiply entries allowed.

I will randomly choose a winner for a $5 ACOT Gift Certificate.

May not be combined with any other challenges (let's let that Washi be the star).

For an extra chance to win, embellish your Washi like I did.

Please have fun with this. There is no right or wrong way to use Washi Tape.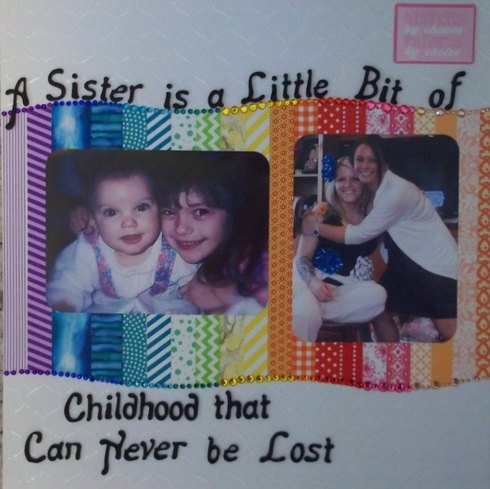 Participants:
Charleneanne

Charleneanne - Embellished Washi

ncokely

ncokely - Embellished Washi

messa09  - Embellished Washi

Retiree3  - Embellished Washi

MacSarah  - Embellished Washi

CNMommy  - Embellished Washi

scrappinmom99

scrappinmom99 - Embellished Washi

 croppinmama

croppinmama-Embellished Washi

Tammey

Tammey - Embellished Washi

scrapsteph

scrapsteph - Embellished Washi

Joannie

Joannie - Embellished Washi

sweetsour

sweetsour - Embellished Washi

pawprints

pawprints - Embellished Washi

Sara M.

Sara M. - Embellished Washi

Sara M.

Sara M. - Embellished Washi

emtAimee734

emtAimee 734 - Embellished Washi

blfonty

blfonty- Embellished Washi

average_kim

average_kim - Embellished Washi

Christi S

Christi S

Christi S

Christi S

keatonsgtgram