This is a Pinterest-inspired challenge, but if you don't have a Pinterest account, you can still play along using the photo prompt I'm supplying from Pinterest.
Here are the spec's:
1) Using a photo/image from Pinterest (or the one supplied below), create a new project inspired by that prompt. 
2) Your project may be a scrapbook layout, card, home decor, art journal entry . . . anything crafty!
3) Traditional/digital/hybrid are all included.
4) Post your entry in this thread and share your inspirational photo (or state that you're using the prompt), and then tell me what about it inspired you.
5) Multiple entries are allowed.
6) You may combine with one other March challenge that also allows you to combine.  Please list it here.
7) Due midnight CST on March 31, 2015.
8) Winner from list of participants will be chosen by random.org for a $5 ACOT gift card.
If you have any questions, please don't hesitate to ask.
Here's my Pinterest-inspiring photo for this month (it is linked to the source):
One of these days, I'm going to make one of these crayon-melted canvases, but for now, the picture inspired me to pull out my gelatos and make a couple cards!  I loved the rainbow order of the crayons, so I kept that pattern and colored my gelatos on an acrylic block, misted it, then used a flower stamp to pick up some color and stamped onto a gesso covered piece of watercolor paper.
Here are my examples for you!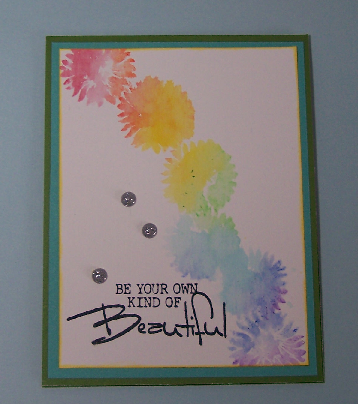 I'm loving how they turned out, and hope to use my gelatos again really soon!
Good luck, cherries!  Can't wait to see how this or other Pinterest prompts inspire you this month!
List of participants (if you entered but don't see your name, please let me know!!)
1. Jillian/jrrah4903
2. Donna/Retiree3
3. Stephanie/scrapsteph
4. Christi S.
5. RochSpears
6. Craftyshannon
7. Deanna 13
8. Jillian/jrrah4903
9. Susan/shoorn
10. Jenn/butterfly 843
11. Christi S.
12. Charleneanne
13. Deanna13
14. sherriscraps
15. Karrie/sweetsour
16. CarrieG
17. mom2ellabell
18. mom2ellabell
19. Nancy/ncokely
20. Heather/scrappininAK
21. Heather/scrappininAK
22. Christi S.
23. Sandi0805
24. Deanna13
25. mom2ellabell
26. mom2ellabell
27. Barb/pawprints
Thanks for all the great entries, ladies!  I love all the inspiration you all share each month!  Will leave gallery love soon--please stay patient with me!
So, now for the winner of the $5 ACOT card--Jillian/jrrah4903!  Congratd, Jillian, and I'll get that out shortly!