March 3 In a Row Challenge
 For the month of March, we will do 3 in a row. Create a layout, card or project using the items listed either top to bottom, across or diagonally (just like you are playing standard tic-tac-toe.) If you have any questions, please PM. me. Have fun and a $5 G.C. will randomly be awarded. Please tell me which row you used on your submission of 3 In a Row.
Rules
* You may combine with one other March challenge.
* For Paper or Digi & hybrid scrappers
* Due Date: March 31, 2015- 11:59 PM CST.
* Multiple entries are allowed
*Must be a new layout/card or altered project.
*There will be a random drawing from all participants who have completed the challenge for a $5 ACOT G.C.
*Please submit your challenge project to this thread.
*Twist- If you use all of the elements listed, your name will be put in twice.
Here are the words.
rounded corners                                                         inking                                                                          swirls
cardstock                                                                   6 or more patterned papers                                        3 or more photos
frame(s)                                                                    circles                                                                           camera
Here is my example.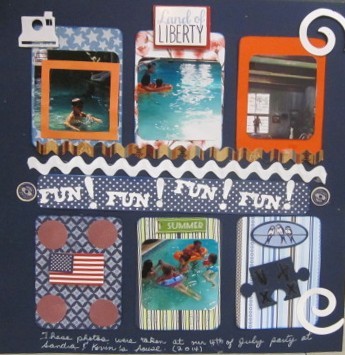 I used all of the above elements.