Wow ladies! Ya really ROCKED this challenge! Its amazing how much talent we have on this board!
I ran the numbers in Random.org and it selected #7! Congratulations average_Kim/Kim!!  I'll be buying your $5 GC to ACOT very shortly!
Thank you to all who played along!
For this month, I found this outfit on Pinterest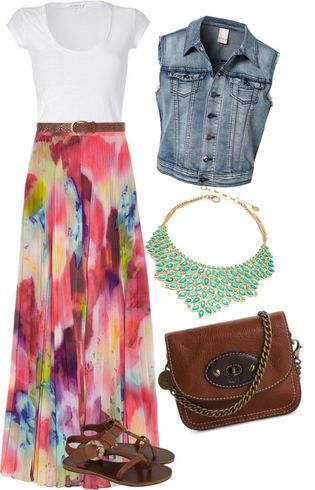 I automatically fell in LOVE with the skirt! Just look how summery it is!  And I just LOVE those colors!
So for this challenge, I want you to use this outfit to INSPIRE you! Just tell me what inspired you. I ALSO want to see some "
texture
" (leather, chunky ribbon, buckles, burlap, corrugated cardstock, embossing), and something
gold
.
Here is my example: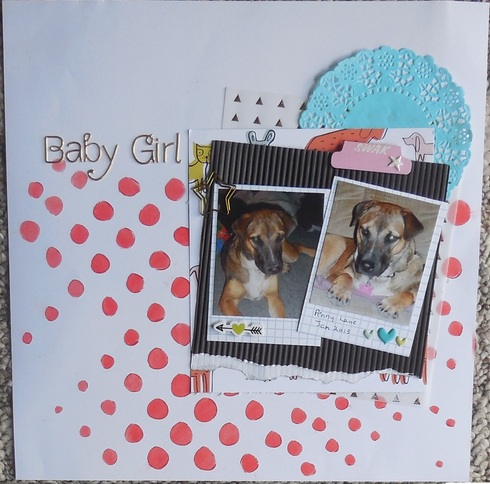 I was drawn to the skirt almost immediately. The colors are fantastic - especially the watermelon reddish pink it has, along with the bit of light green, turquoise. And the way the colors blended together, it just screamed "gelatos"!! Which I used to make background. I also loved the pairing of just a white tshirt, which worked well with my layout as that is the color of cardstock I started off with. My "texture" is from the corrugated cardstock that I have underneath my photos. And my "gold" are the alphas, star paper clip and the little triangles in the vellum.
And now the rules!
1. Please post here with your work
2. All is welcome! Paper, digi, card-making, projects, whatever floats your boat!
3. You may combine with any other May or June Challenge, all Becky Fleck sketches
4. Due June 15th (since I'm posting so late)
5. One lucky random winner will receive a $5 ACOT gc from me!
Any questions - just ask!
Wonderful cherries participating:
1. jan509/Jan
2. jan509/Jan
3. Charleneanne/Charlene
4. hsblair/hsblair
5. jrrah4903 /Jillian
6. emmapaige/Chris
7. average_Kim/Kim
8. sweetsour/Karrie
9. keatonsgtgram/Karen
10. shoorn/Susan
11. Deanna13/Deanna
12. pawprints/Barb
13. Christi_S/Christi
14. sweetsour/Karrie
15. Sandi0805/Sandi