***** First off I want to say how much I appreciated all the kind words, thoughts, and hugs. Thank you all so much, it really meant a lot to me.

I really enjoyed everyone's different song choices and hearing about the feelings evoked by some of them. Great job by all of you!

And now, the random winner, courtesy of random.org, is…

#8 hsblair

Congratulations! I will be sending you your gift card shortly! *****
*** Reminding you all that my May Music Challenge is still running and doesn't deadline until June 9th. *** 
June is going to be a month of mixed emotions for me. It will be the first Father's Day that my dad will not be here, and 5 days after that will be his birthday. That is going to be a tough week, and I've already been feeling the effects of all the Father's Day signs in the stores and all the Dads and Grads advertisements. My dad's birthday was always on the same week as graduation, so every year when I would go to Party City to buy the decorations for his party it would be mobbed with all the people buying graduation decorations and balloons. So all the graduation hoopla this year really hits hard that I won't be in Party City that weekend to buy decorations for my dad. Although I feel so sad and miss him so much, there are also many happy things going on this month. My dd's birthday is this month, and the 14th is her and my sill's first wedding anniversary! Maddie is graduating from first grade this month too! So there will be many happy things to celebrate. This got me to thinking about this month's music challenge…
I want you to pick a song that is about any kind of emotion… it can about being happy, about being excited, about being angry, about being sad, about being in any kind of a mood. Then I want you to use the title of that song for the title of your page.
Have fun and I can't wait to see what you all create!
Open to paper, digi, hybrid, cards, crafts, or whatever this inspires you to create.
Multiple submissions are allowed.
May be combined with one other challenge if that challenge allows it.
You have until the end of June to post your creations to this thread. A random winner will win a $5 ACOT gift card from me!
I decided I wanted my page to be about being happy, so I choose the song "Walking on Sunshine" by Katrina and the Waves. The title perfectly describes how happy Maddie was on her very first day of Kindergarten!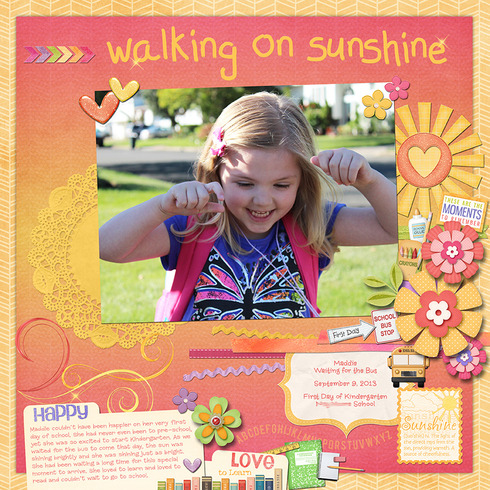 Participants:
1) jrrah4903
2) Christi S.
3) scrappinmom99
4) butterfly843
5) Deanna13
6) average_kim
7) sweetsour
8) hsblair
9) Tammey
10) blbabe1234
11) blfonty
12) Sandi0805
13) Christi S.
14) Christi S.
15) CNMommy
16) emmapaige
17) PezKat
18) 1scrappymom
19) Christi S.