THE WINNERS OF OUR KILL A KIT CHALLENGE ARE lmcgill and jrrah4903  
Ladies, I will get your gc to you first thing in the AM! Congratulations!
http://www.acherryontop.com/gallery/211884
You all saw this coming right????   
July 1st- Here we go! You can post your kit photo and start participating anytime- but I will only accept projects until 11:59 pm. Eastern Time August 15th. So the earlier you post your kit photo and get started the better!
I am going to post this idea/challenge early. It will officially "start" July 1st but I want to be able to iron out any questions before the first and be ready to go on the first. And if you all think it is a crazy idea then we can delete it and pretend it never happened...
So here is how I am thinking this would work...
Step #1 - Create a kit. There are a number of ways to do this.
Idea #1- If you subscribe to a kit club feel free to use any of those kits (maybe your oldest one you haven't dug into yet??) as the kit you would like to "kill"
Idea #2- Grab a collection kit you purchased (Echo Park collections would work really well for this) and some matching cardstock..or if you bought an entire line from one company-  grab all the coordinating paper, embellishments you bought with some matching cardstock as your kit.
Idea #3- Create a kit from scratch using your stash. Here is a You Tube video of how you can do this.  This is the method I use to create a kit from scratch.
https://www.youtube.com/watch?v=5Us_idQkCBY
 *In my opinion the best kinds of kits are the ones that do not have a theme so you can be creative and use them for any type of photo*
Step #2- Post a photo of your chosen kit to this thread. The post with your kit photo will sign you up and I will then add your name to the participating cherries list.
Step #3- As you create projects with your kit, edit the post with your kit photo with a link..just the link not the photo, to the projects you created. (If you are new and need help with how to do this- you can PM me.) 
Thank you all for the great questions- They are the reason I posted early- so we could iron out any details and structure the challenge so everyone can participate- I really appreciate them! You are all very thoughtful and come up with some good points. Most questions were easily answered on the thread, so the only change I am going to make to the Kill A Kit Challenge is found below. Hope that helps to clarify.
In reply to a lot of the questions and to make it easy for everyone to participate....How about we use this as our definition of a kit- For this challenge a kit can be any grouping of scrapbooking products you would like to use up. It should be a  reasonable amount of product- so your kit can't be your whole stash or anything like that and it needs to be able to be photographed all together. Maybe for you , a kit could just be a paper pad and some matching embellishments. I'm not super concerned with what your kit contains...more that you are using up your stash. The ideas above can be used as a starting off point but if you want to change it up, go for it....
And I am not about to stifle anyone's creativity...lol...so if you are scrapping and want to grab something else from your stash to give your project that last perfect touch...that is totally fine with me. As long as the kit you posted a photo of is well represented in your project, I will count it.
You will receive one entry for each project you create with your kit.
You can combine this challenge with any challenge that allows combining. Or will allow you to combine with this challenge.
I will close the challenge August 15th so everyone will have plenty of time to "kill" their kit. And then I will randomly choose two winners to receive a $5 ACOT gift card. 
Feel free to post any and all questions to this thread.....We begin July 1st!!!
Here is my kit I am going to kill- Some Crate Paper  (Craft Market and Poolside), some Elle's Studio, some Simple Stories, Partial packs of embellies...not really sure any of the embellies are brand new I think they are all partial packs....well, until July first when I am ordering a little more of the Crate Paper and I'm sure will use it with the kit...lol) Hope this helps you all out too.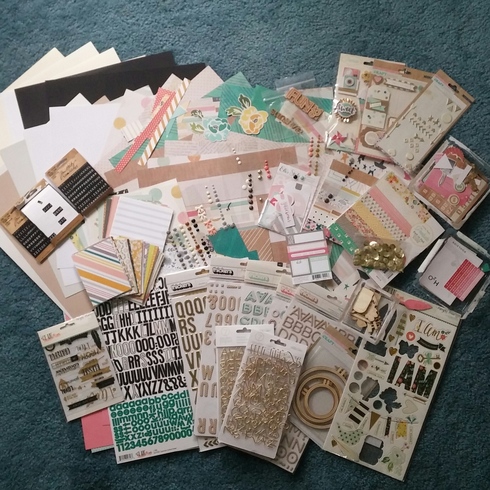 My Layouts and Cards-
http://www.acherryontop.com/gallery/209792-supper-club
 - combined with Creation A Day Layout
http://www.acherryontop.com/gallery/209 ... challenge*
 - Combined with June Fashion Challenge
http://www.acherryontop.com/gallery/209827
 - Combined with Creation A Day Prompt
http://www.acherryontop.com/gallery/210046
http://www.acherryontop.com/gallery/210 ... %27t-heavy
 - Example layout for Summer Challenge #2
http://www.acherryontop.com/gallery/210 ... --july-7th
 - For Creation A Day Prompt July 7th
http://www.acherryontop.com/gallery/210 ... tch-%2397*
 - combined with BF Sketch Challenge #97
http://www.acherryontop.com/gallery/211 ... tch-%2399*
 - combined with BF Sketch Challenge #99
http://www.acherryontop.com/gallery/211884
 - combined with August Pinterest Challenge
http://www.acherryontop.com/gallery/211885
 - just because 
Participating Cherries-
jrrah4903/Jillian - 
messa09- 
Art_Teacher- 
joannie
blbabe1234
ncokely
Yankeegirl
CNMommy
Deanna13
stateless 
Retiree3
scrappinmom99
christinec68
sweetsour
karen c.
emmapaige
Krystle
jan509
branbaucom
scrappininAK
emarie803
beachlover
kate W.
Pez Kat
mom2ellabell
Christi S.
Sandi 0805
lmcgill
Celticrose