Hi ladies - what a great job you all did! Using Random.Org, the winner is blbabe1234. Congratulations!!
I hope you will read the other note I've posted "Failing as Guest Designer".  This will be the 4th and last challenge I can do. I'm so sorry everyone. 
I did this layout last night as I was crying and just thinking about Chance. I managed to include 5 "random" items on this layout. I am challenging you to include at least 1 "random" item on your layout. "Random" means that it has nothing at all to do with your layout. I used a jar, a fan, a zebra, a deer and a lemon slice, most from American Crafts - Amy Tangerine - Finders Keepers. I do hope you will play along.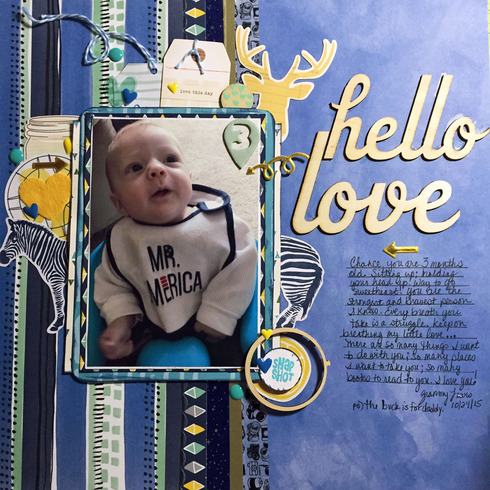 I used Finders Keepers Seeker and Bright Eyes from Amy Tangerine and American Crafts. I also used scraps to mat my photo and Crate Paper Wonder wood veneer woods for my title. I also used a wood veneer circle, a felt heart, tags, Amy Tangerine Finders Creepers enamel hearts, October Afternoon Summertime enamel dots, Freckled Fawn gold puffy arrows and Hemtique bakers twine.
There will be a $5 gift card awarded to a randomly chosen winner! Hope you all play along.
 Now for the rules:
- You may enter one layout for this contest.
- Layouts can be paper or digital
- The layout must be a NEW original creation, not scraplifted. 
- You MUST provide a detailed listing of all the products used to create your page in your description of the entry. 
- Must be a new layout
- You may not combine with any other challenge. 
This layout is due on November 5.