Sorry to be a few days late, but here are the winners for the challenge!!
- $5 gc - Krystle!!
- RAK from my stash - keatonsgtgram!! PM me your address, so I can send it out.
Thanks to all for participating! I'll get a new challenge up soon.
Hi all!  After a crazy few months full of illness, unexpected gall bladder surgery and other fun, I am now back in the scrapping groove... so it's time for a challenge!  I got some cool things for Christmas (watercolor pencils, gelatos, brush markers and other assorted goodies), and I finally have time to start using them. 
For this layout, I used a heart stencil and modeling paste on the background. I then used watercolor pencils to paint over the hearts - it was my first time using them, and I really like how it turned out!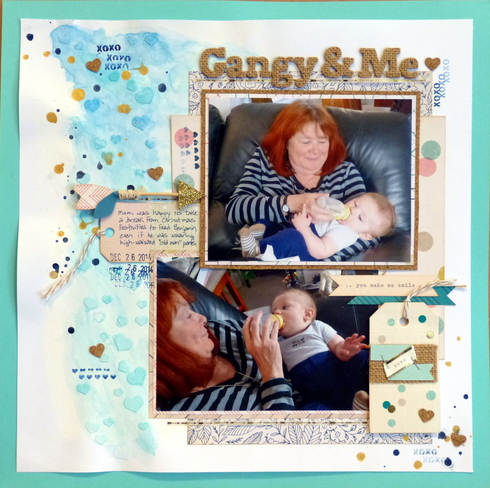 For this challenge, I want you to get messy to create a background. Use paints, inks, mists, whatever you want!  Here's the fine print:
Cannot be combined with other challenges.
You can enter up to three times, but there is a twist!  Each time you enter, you must use a different item to create your background. (For example, watercolors the first time, spray inks the second, and gelatos the third.) Please state what you used for each.
Can be a layout or card.  Digi gals can enter too by creating a background with anything that has a messy look (brushes that look like paint splotches, for example).
Post your layout/card to this thread and/or in the gallery I'll create by March 31.
At the end of the month, I'll draw a winner to receive a $5 ACOT gift certificate. If I get more than 20 entries, I'll draw another name for a RAK from my stash.  Have fun!
Participants:
1) blbabe1234/Brandy
2) Berta R.
3) oceanbreezes423/Susan
4) HeatherS1974
5) MelissaS
6) jcsmaestra/Mary
7) joannie
8) keatonsgtgram
9) robkaynel
10) Retiree3/Donna
11) Meli
12) MelissaS #2
13) Deanna13/Deanna
14) ScrappyDistractions/Lisa
15) Yankeegirl/Kathy
16) KrazSparkle/Kristi
17) emmapaige/Chris
18) scrapy1967/Janet
19) HeatherS1974 #2
20) Sara M.
21) scrapy1967/Janet #2
22) ScrappyDistractions/Lisa #2
23) Krystle
24) meterr70/Terri
25) Scrap Bug/Melissa
26) emmapaige/Chris #2
27) Sandi0805
28) scrappininAK/Heather
29) KrazSparkle/Kristi #2
30) average_kim/Kim
31) Tammey
32) HeatherS1974 #2
33) Anne K.