Apparently Sher and I were thinking along the same challenge idea which is
Photo Bomb!
Whether this is you photo bombing someone else or someone else in your photo background.
I want you to use the title..... Photo Bomb!
You must also use a camera accent!
I hope you'll have FUN with this!!
You can read about Sher's on her
Pet Challenge
.
Here's my example and I included a camera accent.
Photo of my sweet grandkids sitting on the trampoline having no idea their Grampy was in the background. LOL (January 2014)
Photo Bomb!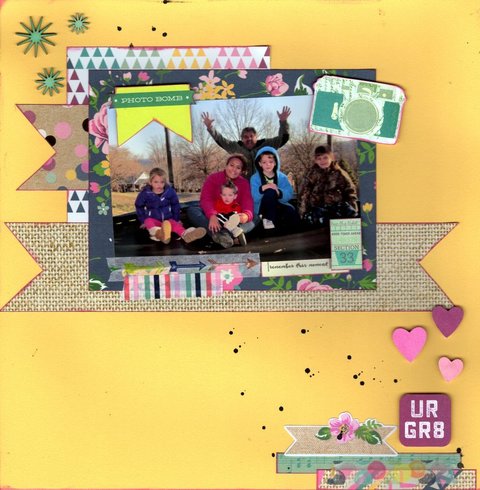 For the fine print....
This can be a paper or digital layout or pocket page. All work must be new. You may do this multiple times. You may combine with one other challenge that allows that. Please link your work here. Deadline is March 31st. A random winner will be selected for a $5 ACOT gift card from me! If there are alot of participants I will draw a second name for a RAK too.
Can't wait to see what you come up with!
-------------------
Cherries Participating: 
1. Berta (Berta R.)
2. Kathy (Yankeegirl)
3. Melissa (Scrap Bug)
4. Barb (pawprints)
5. Donna (Retiree3)
6. Tammey (Tammey)
7. Chris (emmapaige)
8. Terri (meterr70)
9. Susan (suewho372)
10. Meli (Meli)
11. Heather (scrappininAK)
12. Brandy (blbabe1234)
--------------------------------
Time for my Winners! Thanks to everyone who participated! Really enjoyed seeing these!
Winner of the Gift Card is.....
7. Chris (emmapaige)
Winner of the RAK is.....
1. Berta (Berta R.)
Congrats ladies!!