Good Afternoon!
The winner, according to random.org is #6- ScrappyDistractions! Congratulations! I will get your gc later tonight!
Since Shannon got her challenge up a day early and we have another Smash Up Challenge for you, I'll get those up for you too!
Thank you to everyone who replied to my What's In Your Stash post! I will be using those answers in helping me choose challenges.
For this month we are going to focus on buttons...and not just one or two buttons on a project...oh,no...we are going to use BUNCHES and BUNCHES of buttons!
I am still working on my example piece..but that's okay, because I created a whole PInterest board of button ideas to inspire you!
https://www.pinterest.com/shyscrapper/button-ideas/
Here is my example using buttons and the sketch from the Smash UP Challenge-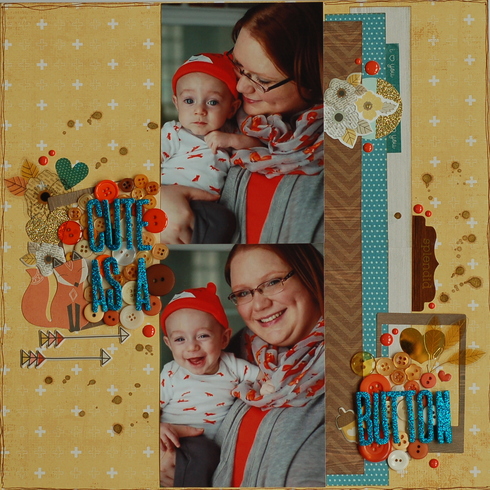 Your Challenge for April- Create a project inspired by one of the projects on the Pinterest board, my example piece, or the Smash Up challenge using LOTS AND LOTS of buttons!

Rules-
- I will accept layouts OR cards for this challenge
- limit of 3 entries
- all entries due by midnight 4/30
- You can link up your projects here or the gallery I will create
- You may ONLY combine this challenge with the Smash UP challenge!
- I will choose one random winner to receive a $5 gc. from ACOT!

Have fun! I can't wait to see your "cute as a button" projects!
Participants-
joannie - #1 and #2
Retiree3 - #3 and #4
suewho372 - #5
ScrappyDistractions- #6
emmapaige - #7
lesmitch - #8
Yankeegirl - #9
jcsmaestra - #10
blbabe1234- #11
MTCanuk - #12
Christi S. - #13,#14,#15
Deanna13- #16
emmapaige - #17
1scrappymom - #18