Since the March 3 in a Row is still going on until April 14, I thought I would do something a little different. We will play bingo. You must choose items  to use on your project from the bingo card  that will give you bingo. If you wish to enter more than once, you must use a different bingo each time. If you have any questions please
PM me.  
A $5 GC. will randomly be awarded
Please tell me which bingo you used.
Rules
* You may combine with  other challenges
* For Paper or Digi & hybrid scrappers
* Due Date -April 30, 2016- 11:59 PM CST.
* Multiple entries are allowed.
I used row 1 going down.- cardstock, paint, 5 or more strips, date, and brads.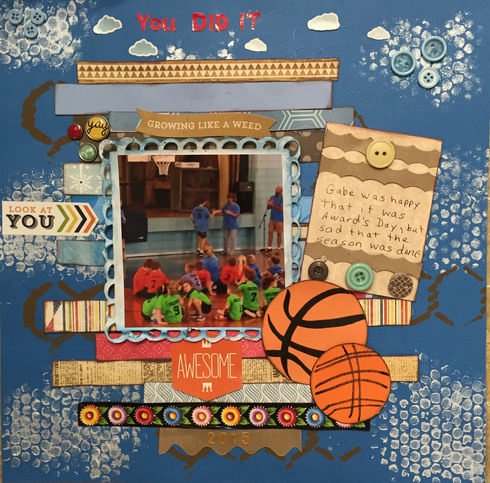 1 
2 
3  
4   
5
1. Cardstock                          frame                            Inking                   Color Blue                 Stencil   
2.
Paint                         Use 2 or more sheets         Triangles                 Tags                         Project Life Card(s)
                                      from a 6x6                                                                                 
                                      paper pad 
3
. 5 or more                   Patterned paper              3 or more                   Buttons                     Stickers
    paper strips                                                      embellishments
                                                                               from your stash                                                                                                                   
4
. Date                         Stitching                          Use a punch               Arrow(s)                   3 or more photos
5.
brads                      Use a die cut                   Chipboard                 Journaling- 3 or             metal
                                                                                                            more lines