***** You all came up with so many great ideas for this! All your pages were so imaginative and I enjoyed every one of them! Thanks to all of you for playing along!

The winner, courtesy of random.org, is…
#9 joannie

Congratulations Joannie!! I have already sent out your gift card! Enjoy! *****
This month I want you to chose a song that asks a question and use it to title your page. It can be the title of the song or a lyric from the song, as long as it is a question. The challenge is that your title must be a question from the song.
Open to paper, digi, hybrid, cards, crafts or whatever this inspires you to create.
Multiple submissions are allowed up to a limit of 3.
May be combined with one other challenge if that challenge allows it.
You have until the end of April to post your submissions. A random winner will win a $5 ACOT gift card from me!
Most of all, HAVE FUN!
I chose the song "What About Now?" by Daughtry and used the title of the song for my page. It is the most absolutely perfect title for Twinkie always wanting someone to throw her tennis ball for her no matter what!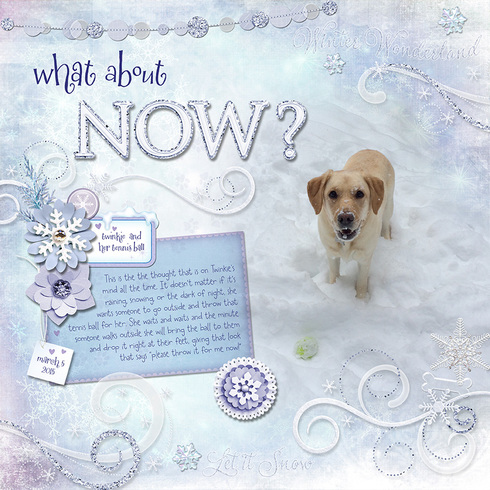 Participants:
1) Rozebud
2) 1scrappymom
3) blfonty
4) karen c.
5) Rosebud
6) Yankeegirl
7) Retiree3
8) Berta R.
9) joannie
10) blbabe1234
11) DolphinSoul
12) joannie
13) Deanna13
14) suewho372
15) CarrieG
16) rachel0017