I chose a little different style of Mood Board for this month in that it's mostly monochromatic. It's very Summery and there are a variety of different images to inspire you.
Your requirement this month is to use any shade of blue/teal and you must use STAMPING.
Please state what inspired you.
This doesn't have to be monochromatic. You may add other colors as well.
May Mood Board
I used a variety of blues and teals here and I was inspired by the Summer theme with the pool and the various water images.
Photos of DH with grandson Brady at the pool, June 2014.
It was really cold and he wore his wet shirt.
It's So Cold!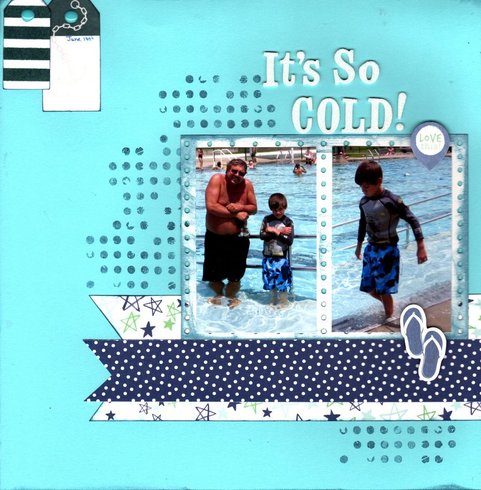 For the fine print....
This can be a paper or digital layout, pocket page, or card. All work must be new. You may do this multiple times. You may combine with one other challenge that allows that. Please link your work here. Deadline is May 31st. A random winner will be selected for a $5 ACOT gift card from me! If there are alot of participants I will draw a second name for a RAK too.
Hope this inspires you to create!
-------------------
Cherries Participating: 
1. Carrie (CarrieG)
2. Donna (Retiree3)
3. Lisa (ScrappyDistractions)
4. (love2stamp)
5. Kathy (Yankeegirl)
6. Karen (karen c.)
7. Brandy (blbabe1234)
8. Susan (suewho372)
9. Leslee (MTCanuk)
10. Chris (emmapaige)
11. Susan (suewho372)
12. Karen (keatonsgtgram)
13. Barb (pawprints)
14. Sandi (Sandi0805)
15. Sandi (Sandi0805)
16. Charlene (Charleneanne)
-------------------------------------
Time for my May Mood Board Winner!
Thanks to all those who participated this month!
The winner drawn according to Random.org are...
Winner of the #5 ACOT Gift Card -
11. Susan (suewho372)
(I'll be buying it soon.)
Congrats Susan!!