Story of the Two Princesses of Cherry Land
Once upon a time there were two princesses that lived in a faraway land – Cherry Land. One princess – Princess Maraschino– was very dutiful to the laws of Cherry Land, and heeded all warnings given by her subjects and court. The other Princess, Princess SourCherry wasn't evil, but more spiteful, and always did things a bit unconventional.
May 2016
The princesses were on an outing with their parents, the King and Queen, to an art exhibit at the Cherryland Museum.  This was the first time the girls actually accompanied their parents on an official outing when they were invited.  They are grown now, so they need to take part in things to learn how to rule the kingdom, even though the King is a fairly young man yet and will probably rule for many more years. 
Walking thru the paintings (all the paintings are of a cherry theme of course) the King said to the Queen "I've a marvelous idea. Let's allow the girls to each choose a painting for the castle.  The castle will one day belong to Princess Sour Cherry, but it would be nice to let them each choose one now."   The Queen thought that was a great idea, especially since Princess Maraschino wouldn't be excluded as she has better taste in the Queen's mind.   Sour Cherry just chooses more modern eclectic paintings. 
So the girls were even more excited looking at the paintings, knowing each of them would be allowed to bring one back to their castle.  Every now and then, the Queen would try and steer them away from some of the less "castle appropriate" paintings, and yet the King would say "Dear, it's their age, their style.  It's time to relinquish the control."  Surprisingly, when the choices were made – they were surprised at the two completely different, but surprisingly beautiful choices.
And here they are:
Princess Sour Cherry liked this one – with a tongue in cheek approach.  It's a real cherry "Pi".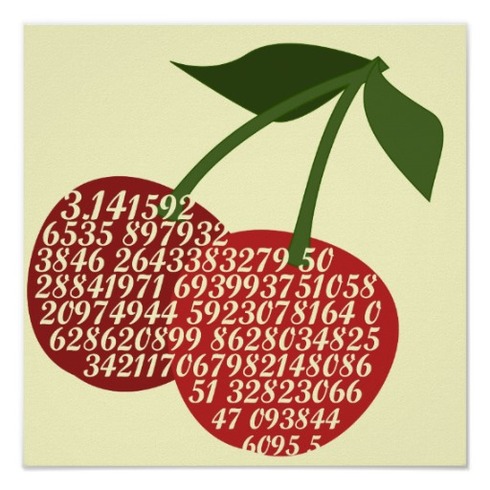 Princess Maraschino chose this one –  called the Cherry Picker.  Softer colors, with many other colors included.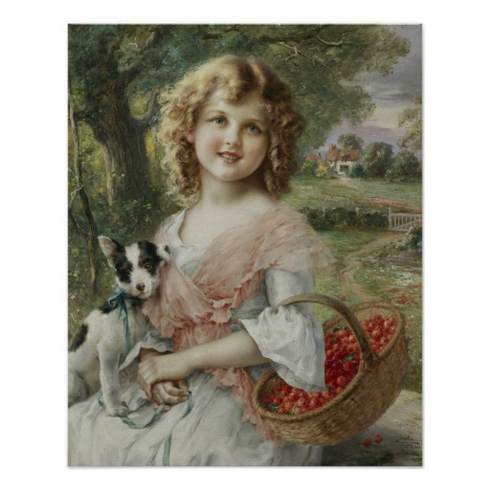 You do know what you have to do, don't you?   Yes, let their painting inspire you.  No rules this time, just use colors, or even the numbers in Sour Cherry's, or the dog in Princess Maraschino's picture to do your layout. 
An extra entry, though, if you do find a way to use the cherry red color in your layout! 
This may be combined with another challenge that allows it, and you will have until June 15th due to the NSD activities, Mother's Day, and Memorial Day this month.  Have fun!!