***** Cherries I must apologize! It was pointed out to me that I somehow overlooked picking my winner for this challenge! Because of the extended deadline I completely forgot about it! Once I posted my June challenge this one was still running and then I forgot to pick the winner! Out of sight, out of mind so to speak! I'm so sorry!

I just loved all the wonderful ways you all used Prince as inspiration, and I loved seeing so much purple!

The winner, courtesy of Random. org, is…
#10 sweetsour

Congratulations Karrie! I just ordered your gift card and you should receive it shortly! *****
This month's Music Challenge is going to be a tribute to Prince. I can't believe how many music greats we have lost in recent months. It's just too sad.
For this challenge you may take your inspiration from anything relating to Prince. It can be a song title, a song lyric, album art, songs he wrote for others (I had no idea that "Manic Monday" and "Nothing Compares 2U" were written by him until now), or even from his name itself.
*** As an added bonus this month, if you use a predominant amount of the color purple I will enter your submission twice! (must be more than just one or two items that are purple, I want to see a lot of it) ***
Open to paper, digi, hybrid, cards, crafts or whatever this inspires you to create.
Multiple submissions are allowed up to a limit of 3.
May be combined with one other challenge if that challenge allows it, but
no combining with NSD challenges
.
I'm giving an extra week
because of the week you will all lose concentrating on getting NSD challenges done. So you have until the end
June 8th
to post your submissions. A random winner will win a $5 ACOT gift card from me!
Can't wait to see where you all get your inspiration from and what you come up with!
I got my inspiration from the song lyric "Party like it's 1999" from the song "1999". I never scrapped the pics that I took of us celebrating New Year's Eve 1999, entering the new millennium, and that lyric was the perfect inspiration for me to do it and document the special event that it was. I was also inspired by the color purple!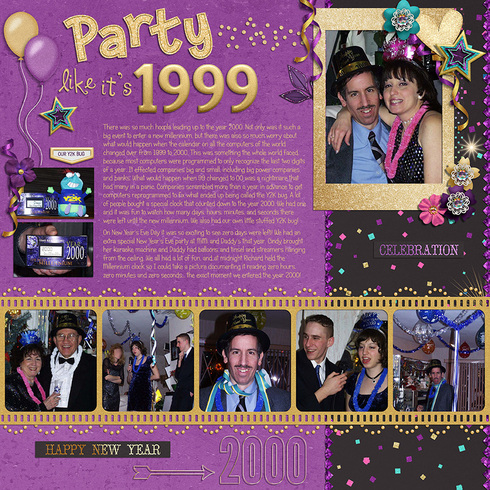 My gosh I can't believe how young we all were and that it was over 16 years ago!!
Participants:
1) Sher
2) Sher -
purple
3) Susan
4) Susan -
purple
5) Retiree3
6) Yankeegirl
7) Yankeegirl -
purple
8) Deanna13
9) Deanna13 -
purple
10) sweetsour
11) sweetsour -
purple
12) rachel0017
13) blbabe1234
14) blbabe1234 -
purple
15) scrappinmom99
16) scrappinmom99 -
purple
17) scrappinmom99
18) scrappinmom99 -
purple
19) Rozebud
20) mgehrke
21) mgehrke
- purple
22) Sandi0805
23) Sandi 0805
- purple
24) 1scrappymom
25) 1scrappymom
- purple
26) keatonsgtgram
27) keatonsgtgram
- purple
28) Deanna13
29) scrapsteph
30) Deanna13
Save
Save