I chose this fun, bright colored Mood Board for June. Warm colors for Summer and various Summer ideas. You can choose from a variety of colors.
Please state what inspired you from this Mood Board and you must use a touch of gold.
June Mood Board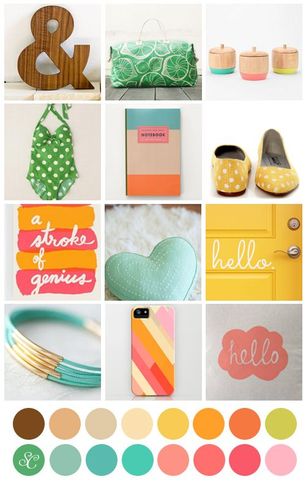 For my example I was inspired by the colors... pinks and teals and also the heart image. My touches of gold are on the chipboard alphas and also a gold enamel dot.
Photos of DH and I along with our dinner one evening aboard the Norwegian Pearl, April 2015.
Dinner Time!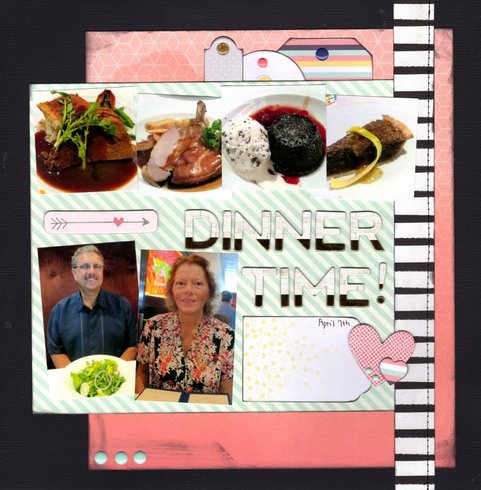 For the fine print....
This can be a paper or digital layout, pocket page, or card. All work must be new. You may do this multiple times. You may combine with one other challenge that allows that. Please link your work here. Deadline is June 30th. A random winner will be selected for a $5 ACOT gift card from me! If there are more than 20 participants I will draw a second name for a RAK too.
Hope this inspires you to create!
------------------------------------------
Cherries Participating: 
1. Heather (HeatherS1974)
2. Susan (suewho372)
3. Anne-Marie (scrappinmom99)
4. Anne-Marie (scrappinmom99)
5. Barb (pawprints)
6. Sherrie (SherrieLynne)
7. Brandy (blbabe1234)
8. Beth (ernstem)
9. Charlene (Charleneanne)
10. Karen (karen c.)
11. (cutiejo1)
12. Donna (Retiree3)
13. Krystle (Krystle)
14. Kathy (Yankeegirl)
15. Tammey (Tammey)
16. Carrie (Carrie)
17. Rose (Rozebud)
18. Chris (emmapaige)
19. Leslee (MTCanuk)     
20. Barb (pawprints)
21. Carrie (CarrieG)
22. Sara (Sara M.)
23. Ann (beachlover)
24. Karen (keatonsgtgram)
25. Bonnie (blfonty)
26. Valerie (stateless)
27. Susan (oceanbreezes423)
28. Anne-Marie (scrappinmom99)
29. Sandi (Sandi0805)
30. Sandi (Sandi0805)
--------------------------------------
Time for my June Mood Board Winners!
The winner drawn according to Random.org are...
Winner of the #5 ACOT Gift Card -
30. Sandi (Sandi0805)
(I'll be buying it soon.)
Congrats Sandi!!
Thanks so much for all the participation this month, ladies!!!
Winner of the RAK is...
2. Susan (suewho372)
Congrats Susan!
Please pm me your addy and I'll get your RAK out this week.