Pet Challenge – August 2016
Can I bug you for just one month?  I'm serious; I just need to pester you a little. . .
Instead of a pet, we'll stick with the animals part of this challenge this month.  Hence -  the "EEEEEEEEEK" version, unless you love tarantulas.
This may end up more of a journaling page (now don't run yet) or you can actually make this work for you even if you don't want to do be bugged.
I was thinking about the OMG bug stories I've experienced in my life. My  yucky one is those thousand leggers that wiggle into my bathroom (and sometimes bedroom) when the guys come to fluff up the tan bark outside.  But I (hard to believe) have a worse story to tell.  And it belongs in my pregnancy scrapbook.  I'll do the layout and you will see why it's so gross. 
So here's my challenge.  I want you to show us/tell us your bug story that, ok, it really needs in a scrapbook.  Are you allergic to bee stings?  Do you have a funny or frightening story that is bug related? 
But I'm giving you ALL an out – if you wish, you can do ANY layout about ANYTHING, and just add butterflies, if this is too gross a subject for you.
  You may want to reconsider the zoo pictures you have, they have some lovely spiders (jk) in those glass cages.  Or how about catching lightning bugs?  Kids always do that.  And managed to have a lovely lit up jar of them until the next morning when they awake and find 99% of them dead. 
Come on , you can do it, and I'll tell you my terrible story – on a layout – of my worst experience with bugs.  Although I have had several.
Here's your sketch. I chose one with room for a lot or a little bit of journaling. I'll add my page, done by this sketch, as soon as I can.  You can do it.  Think butterflies, if you must. Or lady bugs.  But bugs would be and entertaining series for us this month, don't you think?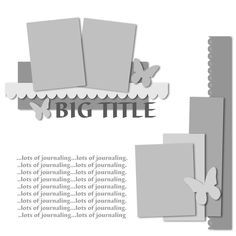 And I'll pull a name for a $5 ACOT gift card after this closes at 11:59 August 31st.