***** Wow so many fantastic song title choices by all of you! And such amazing layouts!! Thank you all for playing along! And since I had over 20 entries I will pick TWO winners!!

Winner #1 - randomly chosen using my ds'  iPhone app RandomNum - is…
#9 Tammey

Winenr #2 - random chosen using my ds' iPhone app RandomNum - is…
#24 Sandi0805

Congratulations Tammey and Sandi! I have already sent out your gift cards so please let me know if you don't receive them. *****
This month I would like you to use the name of a song that was used in a movie to inspire the title of your page. That's it!
Open to paper, hybrid, cards, crafts or whatever this inspires you to create.
Multiple submissions are allowed up to a limit of 3.
May be combined with one other challenge if that challenge allows it. You may also use it as part of the 30/30.
You have until the end of the day on January 31st to post your submissions. A random winner will win a $5 ACOT gift card from me!
Here is my page. I choose Elton John's "Circle of Life" from the movie "The Lion King" for this page that I have been wanting to scrap for a while now. I have so many sweet pics of when Cider and Boomie were together and so many of Twinkie and Sky doing the same things. I wanted to tell the story of how we came back to having a yellow and a black lab again, putting some of those precious pics together.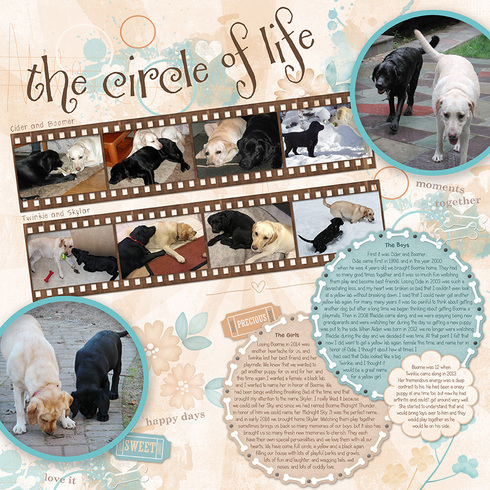 Participants:
1) DolphinSoul
2) Christi S.
3) 1scrappymom
4) sherelm
5) Deanna13
6) Charleneanne
7) JillinIN
8) keatonsgtgram
9) Tammey
10) blbabe1234
11) emmapaige
12) joannie
13) joannie
14) Yankeegirl
15) christinec68
16) Scrap Bug
17) scrappinmom99
18) Retiree3
19) joannie
20) Deanna13
21) blfonty
22) average_kim
23) Sandi0805
24) Sandi0805
25) jlparkmark
26) Sandi0805
27) Christi S.
28) Christi S.
29) Laura K
Save
Save