This month's winner of the $10 gift card chosen by random.org is
#19 blbabe1234-Brandy

.
Since there were more than 20 entries a $5 gift card chosen by random.org goes to
#7 BertaR-Berta

.
Congrats Ladies l will send out your gift card in just a few minutes.
For this months challenge I want you to use the title "Sweet Slumber". You must also use 3 or more stars and 1 or more flowers.
*Bonus* entry if at least one flower is yellow.
Here is my example using stars and yellow flowers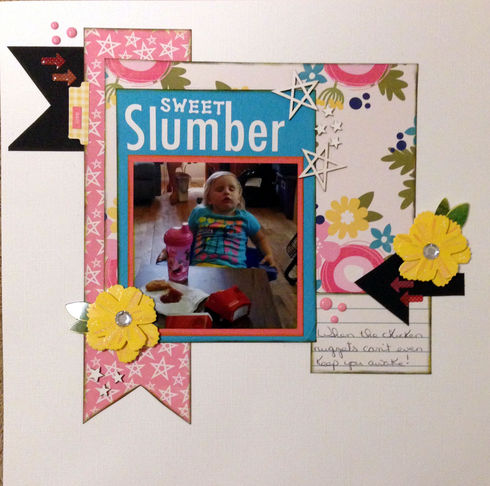 For the fine print....
This can be a paper or digital layout, pocket page, or card.
All work must be new. 1 entry per Cherry.
You may combine with one other challenge that allows that.
Please link your work here. Deadline is March 31, 2017.
A random winner will be selected for a $10 ACOT gift card from me!
Cherries Participating:
1. ScrappyDistractions-Lisa
2. ScrappyDistractions-Lisa (bonus yellow flower)
3. KrazSparkle-Kristi
4. keatonsgtgram-Karen
5. keatonsgtgram-Karen (bonus yellow flower)
6. Berta R-Berta
7. Berta R-Berta (bonus yellow flower)
8. lissahope26-
9. lissahope26- (bonus for yellow flower)
10. Linda S.-Linda
11. Linda S.-Linda (bonus for yellow flower)
12. oceanbreezes423-Susan
13. oceanbreezes423-Susan (bonus for yellow flower)
14. KimberlyE-Kimberly
15. Deanna13-Deanna
16. Deanna13-Deanna (bonus for yellow flower)
17. shoorn-Susan
18. blbabe1234-Brandy
19. blbabe1234-Brandy (bonus for yellow flower)
20. karen c-karen
21. LoreenC-Loreen
22. LoreenC-Loreen (bonus for yellow flower)
23. Yankeegirl-Kathy
24. Yankeegirl-Kathy (bonus for yellow flower)