The Winner of the March Size Matters Challenge is........... Joannie!
Congratulations Joannie! I'll get a gift certificate to you soon.
I'm excited to jump back into hosting a challenge. I hope you will play along.
Sometimes I like using over-sized things on my layouts, sometimes tiny things. I'm calling the challenge Size Matters because it will require something big or small or a combination of both. (Samples below) I'll post a second sample tomorrow.
There may or may not be a twist each month.
To start with I'll keep it simple:Use something over-sized on your layout. A giant tag, a huge paperclip, an enormous flower or die cut, etc. (just not giant alphas, that will be another challenge)
That's it. (No twist this month)  
Here are the rules:
•You may combine with ONE other MARCH challenge that allows combining.
•Multiple entries are allowed. But please limit it to 3.
•For layouts only- Paper or digi
•Due Date: LAST DAY OF THE MONTH, 11:59 PM EST
•There will be a random drawing for a $5 ACOT GC  from all participants who have completed the challenge.
This is a digi layout with big arrows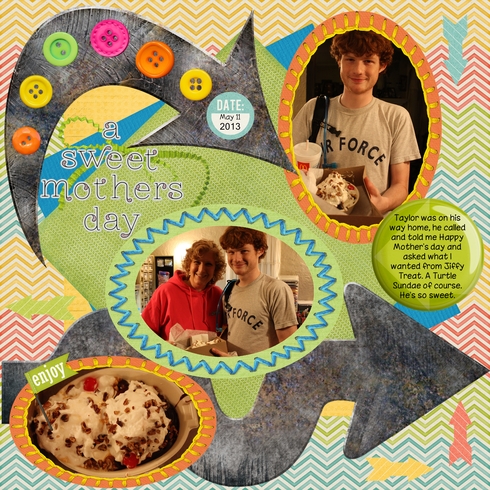 This is a paper LO. I used a giant tag and a big grommet. This is the left hand side of a two pager.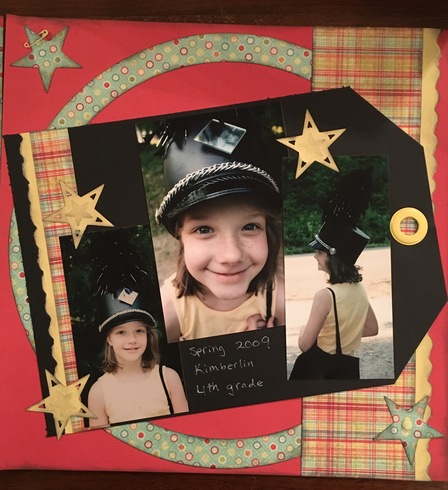 Participating Cherries
1. emmapaige
2. blbabe1234
3. Deanna13 
4. Deanna13 (2nd entry)
5. Scrappinmom99
6. lissahope26
7. Deanna 13 (3rd entry)
8. karen c.
9. MTCanuk 
10. Keatonsgtgram
11. Joannie
12. KrazSparkle
13. Tammey
14. Joannie (2nd entry)
15. Traveler
16. blbabe1234 (2nd entry)
17. Pawprints
18. Retiree3
19. KimberlyE
20. blfonty
21. Pawprints (2nd entry)
22. Pawprints (3rd entry)
23. Scrapbug
24. hsblair