I found this Mood Board at Pinterest. I thought the color scheme was perfect in honor of the 4th of July and it could also work for many Summer activities. Lots of different images scream FUN to me and I hope you'll find it inspiring.
Your challenge is to use Red, White, OR Blue as your predominant color plus you can add any other colors. You MUST also include 3+ FLOWERS!!
You don't have to use all the colors!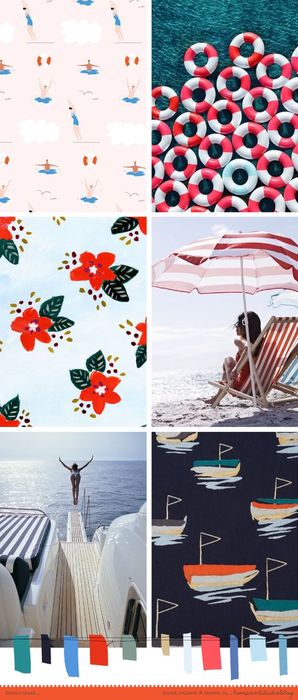 Here's my example with photos of DH and I on the boat we took on a snorkel excursion at Dominica, April 2016 Cruise.
You Are My Anchor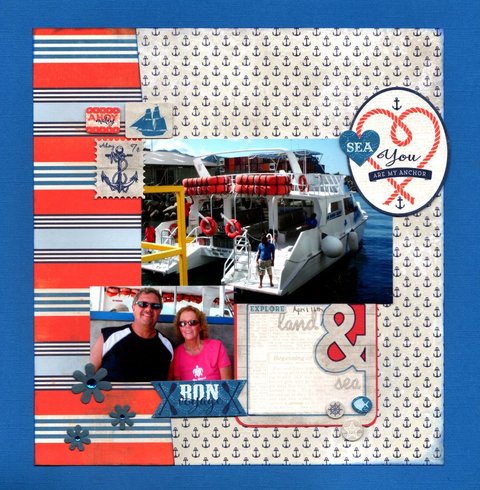 For the fine print....
This can be a paper or digital layout, pocket page, or card. All work must be new. You may do this multiple times. You may combine with one other challenge that allows that. Please link your work here. Deadline is July 31st, 2017. A random winner will be selected for a $5 ACOT gift card from me! If there are more than 15 participants I will draw a second name for a RAK too.
Can't wait to see what you come up with!
-----------------------------------
Cherries Participating:
1. Donna (Donna_Coughlin)
2. (Cherished)
3. Julie (Julie M.)
4. Sherrie (SherrieLynne)
5. Melissa (lissahope26)
6. Carrie (CarrieG)
7. Shannon (1scrappymom)
8. Brandy (blbabe1234)
9. Kathy (Yankeegirl)
10. Karen (karen c.)
11. Tammey (Tammey)
12. Mandy (mandylee)     
13. Linda (Linda S.)
14. Anne-Marie (scrappinmom99)
15. Pam (all4ty)
16. Pam (all4ty)
17. Aimee (EmtAimee734)
18. Aimee (EmtAimee734)
19. Aimee (EmtAimee734)
20. Aimee (EmtAimee734)
21. Loreen (LoreenC)
22. Aimee (EmtAimee734)
23. Aimee (EmtAimee734)
24. Louise (traveler)
25. Donna (Retiree3)
***************************************************************
Thanks so much to all those who participated this month! Beautiful work!!
The winner drawn according to Random.org is...
Winner of the #5 ACOT Gift Card -
9. Kathy (Yankeegirl)
(I'll be buying it this afternoon.)
Congrats Kathy!!
Winner of the RAK -
16. Pam (all4ty)
Congrats Pam! Please pm me your name and address so I can get your RAK in the mail.