Updated with winners - $5 GC goes to #61 scrappinmom99 and the RAK goes to  #2 lissahope26

Anne-Marie - I will be ordering your GC momentarily
Melissa - please send me your address and I'll mail your RAK asap.
Sher (Sherelm) - but when I met her in person, she was introduced to me as Sharon and that is what our mutual friends call her so she'll always be Sharon to me. Anyway, she suggested:
And you know what? You could come up with letters that have to be IN the manufacturer's name, like you manufacturer must have a "T" in it. 
The September Manufacturer Challenge using the Letter T - this month the manufacturer doesn't need to START with a T but must have a T somewhere in the name. I used PinkFresh Studio, Crate Paper and Amy Tangerine. I also used the September 1st sketch from Sketch N Scrap. In addition to having the chance the win a $5 ACOT GC for using the letter T, if you use the sketch, you will also have a chance to win a RAK from me.
Please limit to three submissions and three manufacturers for this month's challenge and three submissions.
Please be sure to list the manufacturer(s) you are using. We should be able to clearly see the product(s) that you do use for this challenge! I will pick a random winner to receive a $5 ACOT gift certificate. If you use the Sketch N Scrap sketch, you'll be entered into a chance to win an RAK from me.
Must be a new layout/card or altered project.
Must post to the gallery by 9/30/17 at midnight and also post to this thread.
You may combine with other September monthly challenges if allowed by that challenge.
Here is my example -  II used Amy Tangerine, Crate Paper and Pinkfresh Studio.  Also I used the SNS sketch.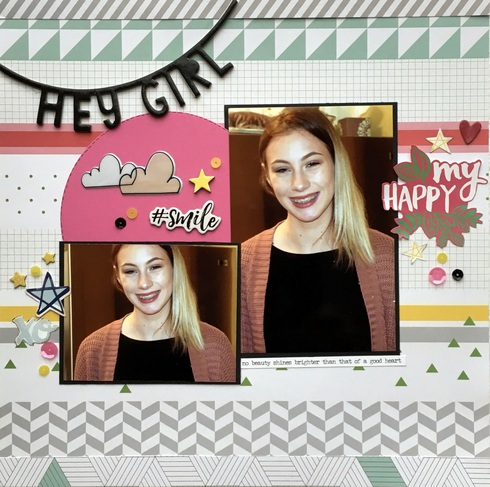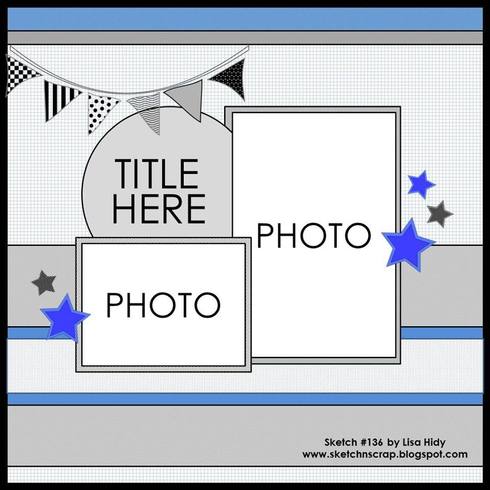 Manufacturer:
Beth B625 - Crate Paper
robkaynel - Chatterbox
shoorn - Cosmo Cricket
shoorn - Hot off the Press
shoorn - Studio Calico
Meli - Hot off the Press
blfonty - Kaiser Craft
blfonty - American Crafts
blfonty - Lifestyle Crafts
CarrieG - Amy Tangerine
CarrieG - Websters Pages
CarrieG - Websters Pages
lissahope26 - Simple Stories
lissahope26 - Fancy Pants
lissahope26 - American Crafts
Tammey - Eyelet Outlet
Tammey - Tim Holtz
Tammey - Studio Calico
scrappinmom99 - Anthentique
scrappinmom99 - Kaiser Crafts
traveler - Coedinations
traveler - Studio Calico
traveler - Stamping Station
lissahope26 - Little Yellow Bicycle
Tammey - Fancy Pants
Tammey - Little B
Tammey - TIm Holtz
traveler - Tsukineko
traveler - Coredinations
traveler - Heartfelt Creations
Deanna13 - Photoplay
stateless - Fancy Pants
stateless - Tim Holtz
stateless - American Crafts
shoorn - Glitz Design
shoorn - Martha Stewart
shoorn - Recollections
Ashley02 - Elle's Studio
mrozwood - Photoplay
mrozwood - Die Cuts with a View
mrozwood - Eyelet Outlet
Deanna13 - Simple Stories
EmtAimee734 - Trixie Scrap Designs
traveler - Crafting Jewish Style
traveler - Next Stamp
traveler - CTMH
Retiree3 - Fancy Pants
Retiree3 - Julie Nutting
sweetsour - Fancy Pants
sweetsour - American Crafts
sweetsour - Cosmo Cricket
EmtAimee734 - Blue Heart Scraps
1scrappymom - Carta Bella
1scrappymom - Fancy Pants
1scrappymom - Cosmo Cricket
EmtAimee734 - Just so Scrappy
blbabe1234 - KaiserCraft
shoorn - KaiserCraft
shoorn - Martha Stewart
shoorn - TIm Holtz
scrappinmom99 - Studio Calico
Deanna13 - Fancy Pants
beachlover - American Crafts
beachlover - Carta Bella
winmom - October Afternoon
winmom - Technique Tuesday
joannie - Carta Bella
joannie - Tim Holtz
joannie - Petticoat Parlor
joannie - Cosmo Cricket
joannie - Petaloo
1scrappymom - Studio Calico
joannie - Adorn It
joannie - Tim Holtz
joannie - Core'dinations
Scrapqueen141 - Simple Stories
Scrapqueen141 - Cricut
Sandi0805 - Fancy Pants
Sandi0805 - CTMH
Sandi0805 - Photo Play
emarie803 - Fancy Pants
beachlover - Crate Paper
beachlover - Carta Bella
beachlover - Simple Stories
emarie803 - Fancy Pants
Sandi0805 - American Crafts
Sandi0805 - Authentique
Sandi0805 - Chatterbox
Sandi0805 - American Crafts
Sandi0805 - CTMH
Sandi0805 - Quickutz
1scrappymom - Chatterbox
1scrappymom - October Afternoon
1scrappymom - American Crafts
Yankeegirl - Scrap Your Trip
StacyLee - Pinkfresh Studios
StacyLee - Little B
StacyLee - Simple Stories
 
Sketch
shoorn
lissahope26
Tammey
EmtAimee734
blbabe1234
Yankeegirl