Congratulations to this month's winner, as chosen by random.org: #4, sweetsour! Thanks to everyone who participated!
As far as I'm concerned, when October 1st hits, it's Halloween. It's my favorite holiday, and one of my favorite books to read with my kids this time of year is
Five Little Pumpkins
.
OPTION 1: Pumpkin Everything
Create a layout focusing on something having to do with a pumpkin. It can be pumpkin carving/decorating, your favorite pumpkin spice latte, Jack the Pumpkin King (a personal favorite), or that time your cutie baby dressed as a pumpkin for Halloween. The sky's the limit! Just make sure there's a pumpkin involved. : )
OPTION 2: Rhyme Time
The words to this story are presented in a fun rhyme:  
"Five little pumpkins sitting on a gate,
The first one said, 'Oh my, it's getting late.'
The second one said, 'There are witches in the air.'
The third one said, 'But we don't care!'
The fourth one said, 'Let's run and run and run.'
The fifth one said, 'I am ready for some fun.'
'OOOOOOO' went the wind, and out went the light,
And the five little pumpkins rolled out of sight."  
Therefore, for this option you must present EITHER your title or journaling in rhyme form.
Sample for Option 2 using a rhyming title: The Lion King's the Thing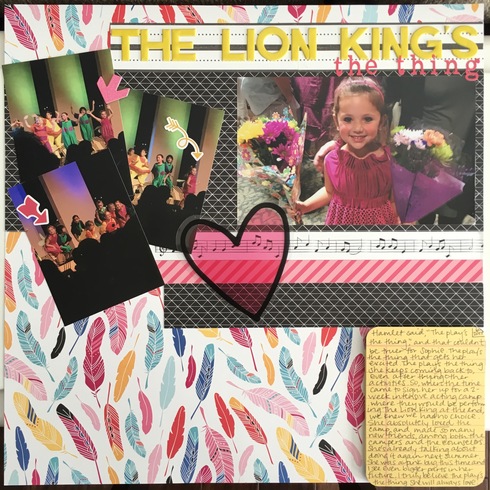 This month, you'll get a BONUS ENTRY if you
include FIVE of an element. Be sure to point out which element you have five of, so it doesn't slip past me!
The Fine Print:
1. HAVE FUN MAKING YOUR PROJECT!
2. Entries open to new projects - paper, digital, & card making.
3. May be combined with one other challenge that allows it.
4. Due October 31st, at 11:59 PM.
5. One lucky winner, chosen at random, will receive a $5 ACOT gift card from us!
6. Up to 3 entries permitted per month.
7. A RAK is awarded to a second winner if there are more than 15 unique entries (not including bonuses) during the month.
Participants:
1. LoreenC
2. LoreenC (bonus)
3. LoreenC
4. sweetsour
5. Retiree3
6. Retiree3 (bonus)
7. tmp718
8. tmp718 (bonus)
9. lissahope26
10. lissahope26 (bonus)
11. CarrieG
12. joannie
13. pawprints
14. sweetsour
15. sweetsour (bonus)
16. Sandi0805
17. Sandi0805 (bonus)