This month's winner is Tammey. Congratulations and thanks to everyone for doing my challenge.
 For this month, we will play tic-tac-toe. You will choose 3 elements.that will give you tic-tac-toe.  Create a layout, card or project using the items listed.  If you have any questions, please PM. me. Have fun and a $5 G.C. will randomly be awarded. Please tell me which items you used on your submission. Please submit your entries in this forum.
       There is a twist to this month's entries. This month the choices are all about numbers. Each choice has a number of items that you must use, however; you may use more of each item if you so choose.
If you choose item 5- embellishments of the same kind, please list what you used.
Rules
* You may combine with  other challenges
* For Paper or Digi & hybrid scrappers
* Due Date-October 31, 2017 - 11:59 P M CST
* Multiple entries are allowed.
*Bonus 1- If you use all of the listed elements, you will receive an extra entry.
*Bonus 2- If you scraplift one of my LOS, you get an extra entry.
Here is my example. I used all of the elements. For item 5, I chose to use 5 strings and 5 words.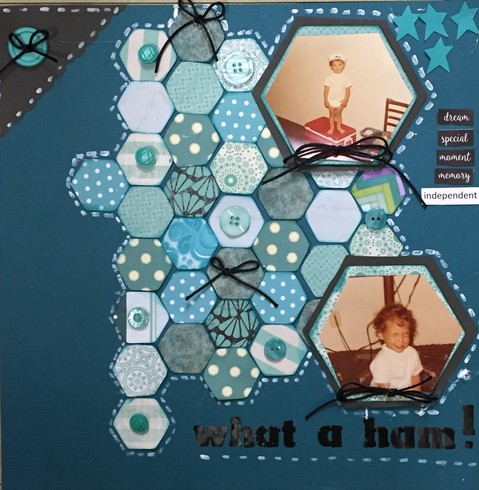 1 corner                             2   photos                                         3 word title
4 stars                               5 of the same embellishments          6 patterned
                                                                                                    papers
7 stitches(Any kind)          8 buttons                                           9 hexagons