Congrats to Donna/Retiree3! Random.org selected #7. I'll order your GC soon!
Thank you to everyone who participated in my challenge! Look for November's Pet Challenge very shortly!
************************************************************************************************************
I'm hosting the Pet Challenge for Sher until further notice. I'm super excited!
For this month, let's scrap about friendship. My gang of furbabies (Jackson included) get along fairly well, and they have "friends" next door too. My brothers' little doggies get along with my crew too. Do your pets (if you have more than one) get along? If you only have one pet, do they get excited about seeing "friends" -- maybe they see another doggie (or kitty) on their morning walk. Or have they made friends at the park? Or if you have family/friends come over, do they bring over their furbabies too? If your pet doesn't really have furry friends...do they have human friends? Whatever the friendship is, lets get it scrapped!
I'll have an example for you later.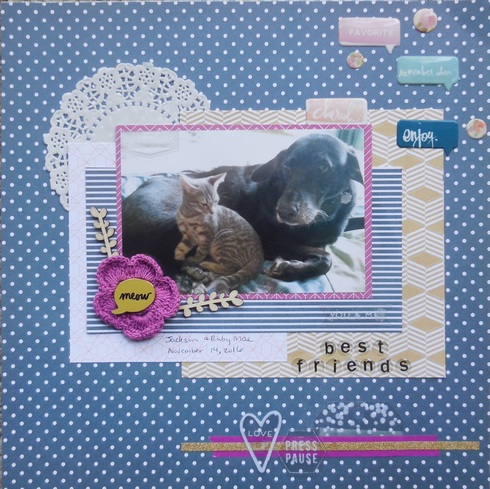 In the meantime, here are those rules!
1. Scrap about your Pet and  their friends. However you like. If you have a question, ask away!
2. You may combine with any other October Challenge (or a Sept one with an Oct Due Date).
3. Due by the end of month - October 31st!
4. Please post your work here.
5. You may enter multiple times, but please limit yourself to THREE entries
6. BONUS -- since this is one of my FAVE challenges, if you scraplift one of my PET layouts, I'll throw in an extra entry
Have fun!
Cherries participating:
1. lissahope26 /Melissa
2.
StacyLeeD
/Stacy
3.
StacyLeeD
/Stacy - bonus
4.
sweetsour
/Karrie
5.
tmp718
/Tammey
6.
tmp718
/Tammey - bonus
7.
Retiree3
/Donna
8.pawprints/Barb
9.
emmapaige
/Chris
10.
suewho372
/Susan
11. Deanna13 /Deanna