****WINNER****
#10 SHER!!! CONGRATS YOU WON THE GIFT CARD THIS MONTH!! THANKS TO EVERYONE WHO PLAYED ALONG!!!
For this month…What's on TV?   Doctor Who
Doctor Who is a British science-fiction television program produced by the BBC since 1963. The program depicts the adventures of a Time Lord called "the Doctor", an extraterrestrial being from the planet Gallifrey. The Doctor explores the universe in a time-travelling space ship called the TARDIS. Its exterior appears as a blue British police box, which was a common sight in Britain in 1963 when the series first aired. Accompanied by a number of companions, the Doctor combats a variety of foes, while working to save civilizations and help people in need.
Challenge: I want to see at least one photo taken at a doctor/dentist/vet's office, of an ouchie, a nurse or doctor, or the patient...(something medical related)
Rules:
* You may combine with ONE other NOVEMBER challenge. Please limit it to 3.
* For layouts only
* Due Date: LAST DAY OF THE MONTH, 11:59 PM EST
*There will be a random drawing for a $5 ACOT GC  from all participants who have completed the challenge.
I can't wait to see what you do!
Here is my sample page. Dixie got tangled up in DH's truck tire last June and had to go to the animal hospital.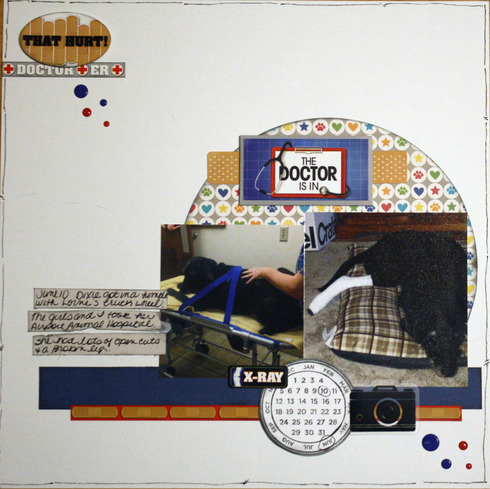 PARTICIPATING CHERRIES:
emmapaige
sallor
KimberlyE
Retiree3
scrappinmom99
Deanna13
StacyLee
Deanna13
Deanna13
Sherelm