Sorry for the late post, friends, but here are this month's winners! The winner of the $5 gift card is

#11 - joannie

! And, with 18 unique entries, we did a drawing for an RAK! The winner is

#20 - shoorn

! Congratulations, and thanks to everyone who played this month!
November seems an obvious time to center the Foodie Challenge around Thanksgiving, but what about a
Charlie Brown
Thanksgiving? That's the recipe we'll be working with this month!
Recipe (Must include AT LEAST THREE elements):
Two slices of buttered toast
: Two photos, matted (you can have more than two photos, but must have at LEAST two)
Pretzel Sticks:
 At least three border strips (must be full page length)
Popcorn: 
Use foam dots to "pop" something off the page
Jellybeans:
A handful of colorful enamel dots  
What's for Dessert? (Bonus):
An ice cream sundae (vanilla ice cream with whipped cream and a cherry on top):
"Top off" your page with something shiny or sparkly – glitter, jewels, gems, pearlescent paint, etc. Just point out what you've used so it doesn't slip past me!
Rules of our Kitchen:
1. Push yourself to make a design that's better than sliced bread!
2. Entries open to FRESH BAKED, BRAND NEW projects only - paper, digital, & card making.
3. May be blended with one other challenge that allows it.
4. Must pop out of the oven November 30th, at 11:59 PM PST.
5. One lucky chef, chosen at random, will receive a $5 ACOT gift card.
6. Up to 3 entries may be poured in per month.
7. A RAK is awarded to a second chef if there are more than 15 unique entries (not including bonuses) during the month.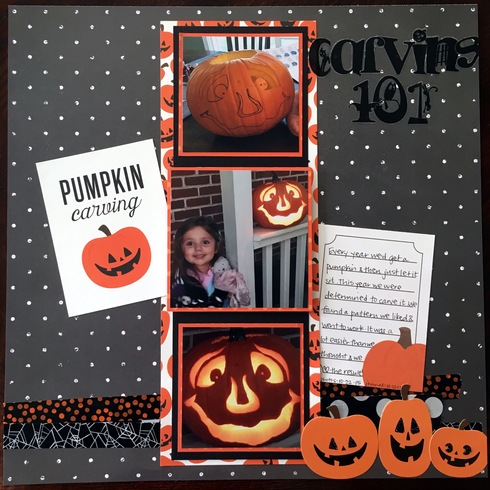 Sample, using at least two photos, three border strips (washi at the bottom of the page) and the middle photo popped up.
Participating Chefs:
1. traveler
2. traveler (bonus)
3. LoreenC
4. LoreenC (bonus)
5. joannie
6. joannie (bonus)
7. Retiree3
8. traveler
9. traveler (bonus)
10. lissahope26
11. joannie
12. Deanna13
13. Deanna13 (bonus)
14. oceanbreezes423
15. oceanbreezes423 (bonus)
16. StacyLee
17. KimberlyE
18. Deanna13
19. shoorn
20. shoorn (bonus)
21. emmapaige
22. emmapaige (bonus)
23. Deanna13
24. 1scrappymom
25. 1scrappymom (bonus)
26. Sandi0805
27. Sandi0805 (bonus)
28. stateless
29. stateless (bonus)