The winner picked by random.org was #5! Deanna13 (deanna!)  YAY Congrats Deanna! I will send an email to heidi in a few minutes!! Thank you everyone who participated, all the layouts were amazing!!! 
Who is
YOUR 
"Main Squeeze" ??? (ha! how do you like that play of words on the paper line I used !!! )
If you are like me you have LOTS of subjects that are near and dear to your heart that you scrap!!!!
This is my dd and his bride to be at their wedding shower. They look so happy!! 
This line is so perfect for these pics!! I love the touches of light teal.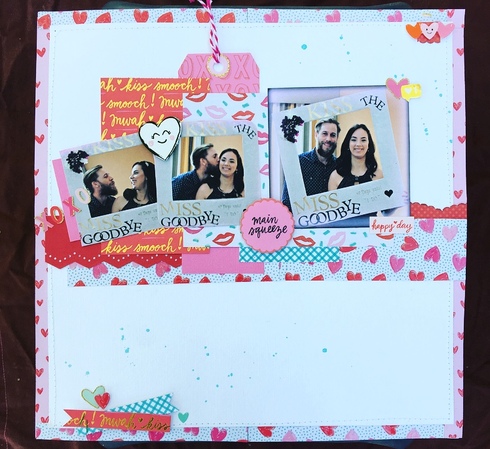 The challenge should you accept it is to scrap someone or something near and dear
to your heart and then tell us a bit about the who and why!  Please add some misting or
paint splatters!! 
If you have any questions just ask in this thread! 
Here are the rules:  Challenge open to layouts only please.
A $5 gc will be awarded to the random.org winner.  
Limit 1 entry per person, and no combining with other challenges.
Due:  Nov 30, 11:59 pm est
Participating:
1. emmapaige (chris)
2. retiree3 (donna)
3. lissahope26 (melissa)
4. Karen c ( Karen)
5. deanna13 (deanna)
6. carrieG (carrie)