I wish I were a millionaire - I would award all of you because all of the pages you Cherries did were fantastic. I loved them all. Thank you to each an everyone of you for stepping outside of the box and participating. Using Random.Org #14 is the winner.......
SherrieLynne
You should receive your GC shortly. Again thank you everyone for participating. You are all awesome!!!
Here Ye Here Ye - the Queen of Washi is back and completely ready for fun with Washi. First I would like to thank Charlene for taking over for me in my absence. I looked back and found that I have not done this challenge in over a year 
Wow I didn't think it was that long, but when I look back, yep it sure was. We had so many projects going this past year. Oh remind me to NEVER do a bathroom and kitchen remodel at the same time. YIKES!!! Talk about being pulled from both sides. Not only did we do the bathroom and kitchen, we also had our entire backyard scraped and sodded. More landscaping in the front yard was done and also many DIY projects. Not to mention we had company here and there through out the summer. Orahn's baptism and other celebrations. As I look back, I wonder where 2017 went. I feel like I blinked and it is almost gone. I hadn't scrapped since last February til November with the exception of a retreat in April (which I never unpacked for, so I was good to go for the November retreat). My scrappy room was a disaster but the past 2 days I have it back in working order. I've been finishing LOs that I started at the April and November retreat with a few others for challenges. I am so ready to do this.
So for the first Washi challenge of 2018, I would like to see you make 4 rows of zigzags with your Washi. Let me tell you, this takes time and patience. I actually had to get DH involved, as I couldn't get my points to match up for the life of me. Once he showed me what I was doing wrong, it went pretty smoothly and I love how it turned out.  
I am going to give you all the opportunity of 4 entries from one LO.
Entry 1 - Your LO must contain 4 rows of zigzags made out of Washi.
Entry 2 - Using a second Washi - frame at least 1 of your pictures.
Entry 3 - Hey go right ahead and scraplift my example below
Entry 4 - Using a third Washi - if you scraplifted my example, Washi around your patterned paper that is behind your photos like I did.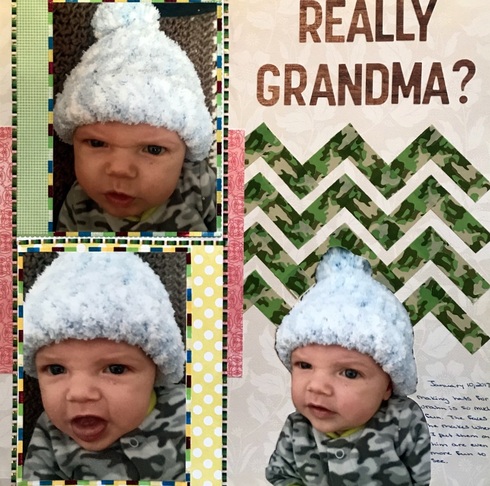 Rules:
For Paper, Digi, Hybrid Scrappers and Card Makers.
Post to this thread by midnight January 31, 2018 - CST
Only 2 entries permitted since there is the opportunity of 4 entries per LO.
I will randomly choose a winner for a $5 ACOT Gift Certificate.
May not be combined with any other challenge with the exception of the 30/30 Challenge.
Please have fun with this. There's no right or wrong way to use your Washi 
Participating Cherries:
Tammey
Tammey (bonus entry)
Tammey 

(bonus entry)

Tammey 

(bonus entry)

Retiree3
Retiree3 

(bonus entry)

Retiree3 

(bonus entry)

Retiree3 

(bonus entry)

Charleneanne

1scrappymom

1scrappymom (bonus entry)

1scrappymom (bonus entry)

1scrappymom (bonus entry)

SherrieLynne

blbabe1234

blbabe1234 (bonus entry)

Berta R.

Linda S.

Joannie
Yankeegirl
Yankeegirl (bonus entry)