According to random.org this months winner of the 10.00 gift card is
# 27 keatonsgtgram-Karen
. Congrats Karen I will send it shortly.
Good morning and Happy New Year my cherry friends.
For this month you must use the title...
Just Hanging Out
. I would also like for you to use at least 2 photo corners (anyway, anywhere on your layout).
***Bonus*** if you use a top AND bottom border OR 1 side border (either side).
***2 Bonus entries*** if you use all 3 (top, bottom and side).
My layout using the title Just Hanging Out, 2 photo corners and both bonus entries.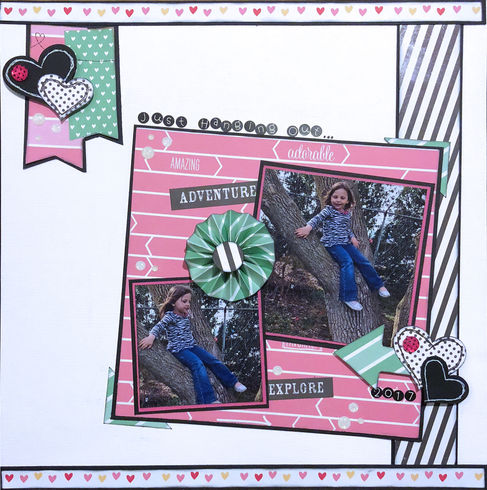 For the fine print....
This can be a paper or digital layout, pocket page, or card.
All work must be new. 1 entry per Cherry.
You may combine with one other challenge that allows that. .
Please link your work here. Deadline is Jan 31, 2018
A random winner will be selected for a $10 ACOT gift card from me!  
Cherries Participating:
1. 1scrapdiva-
2. 1scrapdiva- (bonus for top and bottom border)
3. SherrieLynne-Sherrie
4. SherrieLynne-Sherrie (bonus for top and bottom border)
5. Berta R-Berta
6. Berta R-Berta (bonus for all three borders)
7. Berta R-Berta (bonus for all three borders)
8. mgehrke-Mildred
9. mgehrke-Mildred (bonus for all three borders)
10. mgehrke-Mildred (bonus for all three borders)
11. lissahope26-Melissa
12. lissahope26-Melissa (bonus for top and bottom borders)
13. Sandi0805-Sandi
14. Sandi0805-Sandi (bonus for top and bottom borders)
15. traveler-Louise
16. traveler-Louise (bonus for top and bottom border)
17. Retiree3-Donna 
18. Retiree3-Donna (bonus for all three borders)
19. Retiree3-Donna (bonus for all three borders)
20. Deanna 13-Deanna
21. Deanna13-Deanna (bonus for top and bottom borders)
22. YankeeGirl-Kathy
23. YankeeGirl-Kathy (bonus for all three borders)
24. YankeeGirl-Kathy (bonus for all three borders)
25. keatonsgtgram-Karen
26. keatonsgtgram-Karen (bonus for all three borders)
27. keatonsgtgram-Karen (bonus for all three borders)
28. ScrappyDistractions-Lisa
29. ScrappyDistractions-Lisa (bonus for side border)
30. emmapaige-Chris
31. Linda S.-Linda
32. Linda S.-Linda (bonus for top and bottom borders)
33. blfonty-Bonnie
34. blfonty-Bonnie (bonus for all three borders)
35. blfonty-Bonnie (bonus for all three borders)
36. blbabe1234-Brandy
37. blbabe1234-Brandy (bonus for top and bottom borders)
38. average_kim-Kim
39. average_kim-Kim (bonus for all three borders)
40. average_kim-Kim (bonus for all three borders)
41. 1scrappymom-Shannon
42. 1scrappymom-Shannon (bonus for top and bottom borders)
43. joannie-Joannie
44. joannie-Joannie (bonus for top and bottom borders)
45. meterr70-Terri
46. karen c-Karen
47. Christi S.-Christi
48. Christi S.-Christi (bonus for all three borders)
49. Christi S.-Christi (bonus for all three borders)
50. beachlover-Ann
51. beachlover-Ann (bonus for all three borders)
52. beachlover-Ann (bonus for all three borders)