This month's winner of the $5 gift card, as chosen by random.org is #24 - BERTA R.! And, since we had so many entries, an RAK will go to #29 - LINDA S.! Thank you so much to everyone who participated and shared your love this month!
I'm posting early because this week is going to be CRAZY for me, and I'd rather post early than late. : )
I am an Elementary School librarian, and a book was recently released that has gotten a lot of attention in the world of children's literature.
Love
by Matt de la Peña, illustrated by Loren Long is about so much more than the simple title would suggest. It's about love in all its forms and how love can be found in unexpected places. It's about how love transcends race, religion, ethnicity, and belief, and is a universal tie that binds us all together. It's about how love can be given, received, observed, and, sometimes, even lost. It's the kind of book where the words and the pictures NEED each other; take one away, and the book would make no sense. I wish I could post every page of the book here for you all to see, but since I can't, trust me when I say it is incredibly beautiful, on so many levels. Its impact is great, and its messages run deep.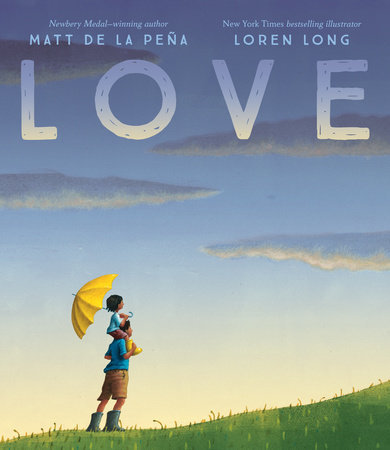 ONLY OPTION : )
There will be only one option for The Book Lover's Challenge this month, instead of the usual two. The challenge is to simply make a page about love. It can be about an expected kind of love, like that of a family member or pet, but I'd love (no pun intended) for you to think about love revealing itself in an unexpected place or way, such as what I scrapped about for my sample. It can be about what love means to you or what you love about someone or something. It can be love shown through a gesture or a word or an action. It can really take any form, as that's one of the clearest messages in the book. Have fun with it. I hope you create something you love.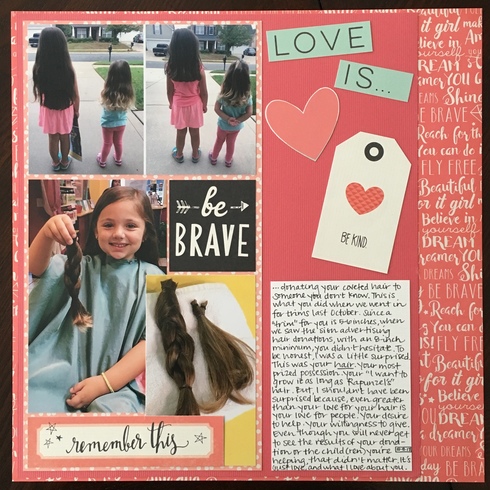 BONUS

- I don't usually like to prescribe a particular title, but seeing as the book is about all the different things love can be, it seems appropriate here. For the bonus, title your page "Love is..." and then complete the sentiment elsewhere on the page. It can be a subtitle or in the journaling or even as a caption on a photo, however, the phrase MUST be completed somewhere on the page to get the bonus. In my sample, the "Love is..." is completed in the first line of the journaling when I write, "...donating your coveted hair to someone you don't know."
The Fine Print:
1. HAVE FUN MAKING YOUR PROJECT!
2. Entries open to new projects - paper, digital, & card making.
3. May be combined with one other challenge that allows it.
4. Due February 28th, at 11:59 PM.
5. One lucky winner, chosen at random, will receive a $5 ACOT gift card from us!
6. Up to 3 entries permitted per month.
7. A RAK is awarded to a second winner if there are more than 15 unique entries (not including bonuses) during the month.
Participating Cherries:
1. mgehrke
2. Retiree3
3. Retiree3 (bonus)
4. Deanna13
5. blbabe1234
6. blbabe1234 (bonus)
7. shoorn
8. shoorn (bonus)
9. karen c.
10. emmapaige 
11. emmapaige (bonus)
12. Deanna13
13. Deanna13 (bonus)
14. Scrap Bug
15. Scrap Bug (bonus)
16. Retiree3
17. Retiree3 (bonus)
18. Tammey
19. Tammey (bonus)
20. sweetsour
21. sweetsour (bonus)
22. keatonsgtgram
23. keatonsgtgram (bonus)
24. Berta R.
25. Berta R. (bonus)
26. Deanna13
27. Retiree3
28. Retiree3 (bonus)
29. Linda S.
30. Linda S. (bonus)
31. scrappinmom99
32. Sandi0805