Via Random.org, Deanna13/Deanna is the lucky cherry of the ACOT GC!! Congrats Deanna! I'll purchase your GC before noon today!
Thank you all for participating!
********************************************************************************************
Good evening cherries! Spring has sprung in South Texas and this month, its all about the great outdoors! And a little bit of green!
Does your dog love to play outside, or even just relax on the patio, sunning itself? Does your cat climb trees? Whatever activity your furbaby likes to do outside, lets scrap it!
I have TONS of pics to choose from, but chose these 3 photos of Mr. Jeffrey. He's chewing on one bone, with another one right next to him. He sure was a hoarder! LOL!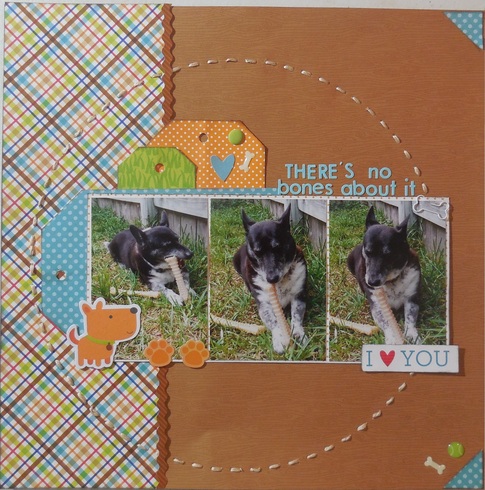 And here are those rules!
1. Showcase your furbaby outside and add a bit of green to your layout. Doesn't need to be a whole lot. Mine is just 2 small enamel dots and a tag and my plaid paper has some green too.
2. You may combine with any other March Challenge (or a Feb one with a March Due Date).
3. Due March 31st
4. Please post your work here.
5. You may enter multiple times, but please limit yourself to THREE entries
6. BONUS -- since this is one of my FAVE challenges, if you scraplift one of my PET layouts, I'll throw in an extra entry
Have fun!
Participating Cherries:
1. mgehrke/Mildred
2. mgehrke/Mildred (*bonus)
3. Retiree3/Donna
4. Retiree3/Donna (*bonus)
5. Deanna13/Deanna
6. Deanna13/Deanna
7.carrieG/Carrie
8.
Fiona
h//
Fiona
9.sweetsour/Karrie
10.emmapaige/Chris
11. emmapaige/Chris
12.shoorn/Susan
13.shoorn/Susan (*bonus)
14.suemo
15. deanna13/deanna
16. dolphinSoul/Carissa
17. DN in MN/Deanna
18.pawprints/Barb
19.sandi0805/Sandi