WOW - Cherries you have made me so proud. All of your pages are wonderful. Using Random.org, number 69 is the winner - Brandy
I'll get your gc out shortly. Please let me know if you don't receive it. And thank you all for participating and making this challenge successful.
Last month was so much fun using so many different Washi Tapes, I just had to do something on the same order. I love Black and White and wanted to try a page only using black and white Washi. I love how it turned out and would like to challenge all of you to do the same. I'm not going to make any requirements except that you can only use black and white Washi. No other colors. You can use as many or as few Washi tapes as you like. Of course I like to get a chance for extra entries so here is what I have for you:
Only use Black and White Washi - this is the must have.
For every 3 Washi used will earn you 1 entry.
Bonus entry if your entire page is Black and White INCLUDING your photo(s).
Bonus entry if you lift my example.
I have 21 different Washi Tapes which would earn me 7 entries and 1 bonus for using ONLY Black and White and another bonus entry if I lifted myself. So I would have earned 9 entries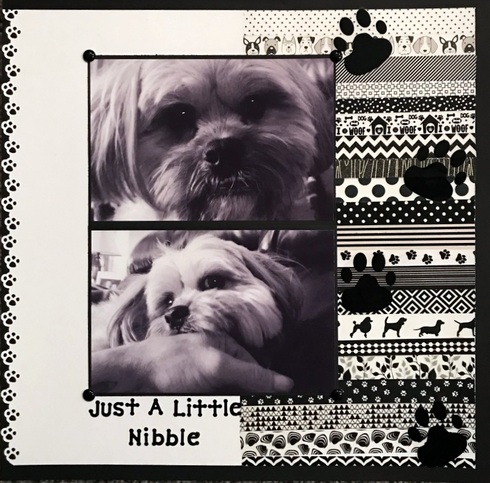 Rules:
For Paper, Digi, Hybrid Scrappers and Card Marker.
Post to this thread by midnight March 31, 2018 - CST
Only 2 entries permitted since there is the opportunity of many entries from your one LO.
I will randomly choose a winner for a $5 ACOT Gift Certificate.
May not be combined with any other challenge.
Please have fun with this. There's no right or wrong way to use your Washi 
Participating Cherries:
Deanna13

Deanna13

Deanna13

Deanna13

Deanna13

Deanna13 (bonus entry)

Deanna13 (bonus entry)

tms58

tms58

tms58

tms58

tms58

tms58 (bonus entry)

Tammey

Tammey

Tammey (bonus entry)

Tammey (bonus entry)

Tracy

Tracy (bonus entry)

Retiree3

Retiree3

Retiree3

Retiree3

Retiree3

Retiree3 (bonus entry)

Retiree3 (bonus entry)

Deanna13

Deanna13

Deanna13

Deanna13

Deanna13

Deanna13 (bonus entry)

sweetsour

sweetsour

sweetsour

sweetsour (bonus entry)

Retiree3

Retiree3

Retiree3

Retiree3

Retiree3

Sara M

Sara M

Sara M

blfonty

blfonty

blfonty

blfonty

blfonty

blfonty

blfonty (bonus entry)

blfonty (bonus entry)

Linda S

Linda S

Linda S

Linda S (bonus entry)

Linda S (bonus entry)

Sandi0805

Sandi0805

Sandi0805

Sandi0805

Sandi0805

Sandi0805

Sandi0805 (bonus entry)

Sandi0805 (bonus entry)

blbabe1234

blbabe1234

blbabe1234

blbabe1234

blbabe1234 (bonus entry)

scrappinmom

scrappinmom

scrappinmom