I love how you all used up those paper pads/scraps! WTG!!!! And the lucky winner of the ACOT GC is karen c !!! Congrats Karen! You are on a roll today! I'll get you that GC out to you very shortly!
Thank you all who participated!
*****************************************************************************************
April Fool's! I'm your host for the Pattern Paper Challenge this month!
For this month, I want you to grab your scraps or 6x6 paper pads, and your punches or die cut machines and lets cut shapes out of those pattern papers! They can be hearts, circles, triangles, various theme related die cuts. Whatever you'd like!
Here is my take on the challenge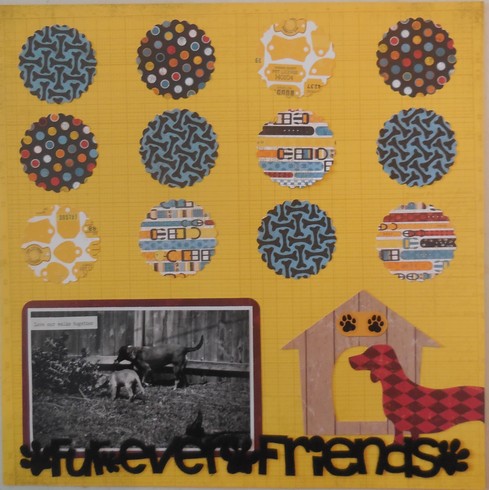 This layout uses mostly the Bo Bunny "Happy Tails" collection. I don't have anymore of the 12x12 sheets, but do have (now did) a few 6x6 sheets. I also had a few little die cut shapes from the ephemera pack. I used my 2 inch scalloped punch to punch out the shapes and make a grid like design on my background.
And here are those rules!
1. Use those scraps and/or 6x6 paper pads to punch out/die cut shapes.
2. You may combine with other challenges
3. Due April 30th
4. Please post your work here.
5. You may enter multiple times, but please limit yourself to FIVE entries
6. Paper entries only - sorry no digi. This is a Pattern Paper Challenge - layouts, cards, crafts.
Have fun!
Participating Cherries:
1. JillinIN/Jill
2.lissahope26/Melissa
3.love2stamp/Jenn
4.Tammey
5.Deanna13/Deanna
6.sweetsour/Karrie
7.Retiree3/Donna
8.Retiree3/Donna
9.Retiree3/Donna
10.1scrappymom/Shannon
11. Berta R
12.joannie
13. karen c
14.stacyLee
15.stacyLee
16. Deanna13
17. emmapaige/Chris
18. retiree3/Donna
19.
20.