I loved all of your wonderful layouts!! Since I had over 20 entries not counting bonus entries I have picked 2 winners!

Random winner #1, using RandomNum iPhone app, is…
#21 Berta R.

Random winner #2, using RandomNum iPhone app, is…
#30 Sandi0805

Congratulations Berta and Sandi!!! I have sent out your gift cards. Let me know if you don't receive them.

Thank you to everyone that participated!
-------------------------------------------------------------------------------
April Fools! Well a few days early anyway. I will be hosting the April 3-in-a-Row Challenge!
You all know the drill. Pick three items in a row, across down or diagonal, just like in Tic-Tac-Toe. Use those items in your layout. You may use anything else you want, just be sure to use the three items that you picked.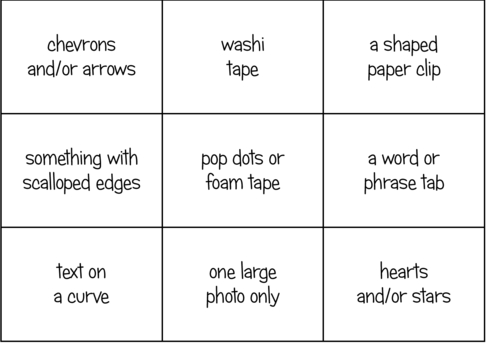 Please post the items you chose along with your submission.
*BONUS*
 entry if you use all nine items!
*BONUS
*  entry if you scraplift any of my layouts!
This mean you have a chance for up to three entries with one submission!
Open to paper, digi, hybrid, cards, crafts, or whatever this inspires you to create.
You may combine with one other challenge that allows it.
Multiple submissions are allowed up to a limit of 3.
You have until midnight (whenever midnight is for you) April 30th to post your submissions to this thread. A random winner will receive a $5 ACOT GC from me!
Most important…
HAVE FUN!
Sorry I was not able to do a new layout since I thought this would be better as a paper layout and I have not been able to paper scrap right now. I chose a paper layout from my gallery as my example. It contains all nine items.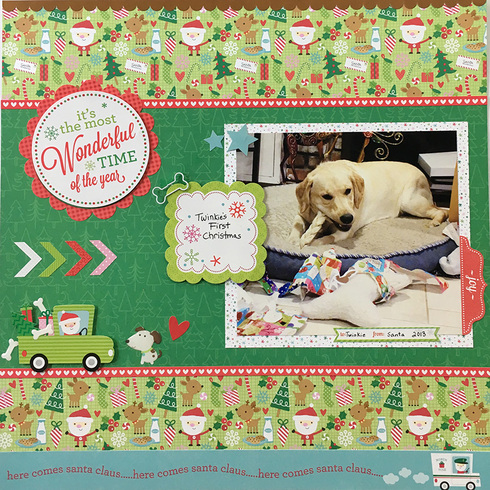 Hope you all have fun with this!
Participants:
1. Deanna13
2. CarrieG
3. blbabe1234
4. emmapaige
5. blfonty
6. JillinIN
7. Retiree3
8. Charlenneanne
9. lissahope26
10. lissahope26 - bonus scraplift
11. sweetsour
12. 1scrapdiva
13. 1scrapdiva - bonus all 9
14. Linda S.
15. Linda S. - bonus all 9
16. Linda S. - bonus scraplift
17. 1scrappymom
18. rachel0017
19. rachel0017 - bonus scraplift
20. Barb Van
21. Berta R.
22. Berta R. - bonus all 9
23. joannie
24. Tammey
25. Tammey - bonus all 9
26. Tammey - bonus scraplift
27. joannie
28. scrappinmom99
29. Sandi0805
30. Sandi0805 - bonus all 9
31. Sandi0805 - bonus scraplift