This month's winner, as chosen by random.org is #1 - Karen! Thanks so much to everyone who participated!
APRIL FOOLS!!  
The joke here is that I'm actually doing my regular challenge this month! Enjoy!  
One of my favorite genres to read is true crime, and a lot of times I'll just go into the bookstore and browse the shelves until I find something that piques my interest. That's how I found this month's inspiration:
The Man Who Loved Books Too Much
by Allison Hoover Bartlett. It spoke to my librarian's heart, and is an interesting true story about rare book thief, Charles Gilkey, whose obsession with books came from a place of wanting to have an impressive collection as a sign of wealth, a la Sherlock Holmes. It is also a tale of the rare book dealer who took it upon himself to investigate and catch Gilkey.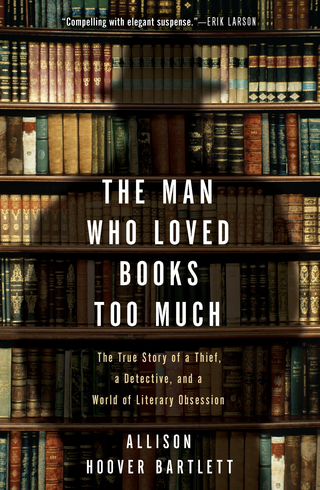 OPTION 1: Impressive Collections
Charles Gilkey wanted to collect books, but we all collect something. For Option 1, scrap about one (or more) of your collections. Why do you collect it/them? For how long have you been collecting? How did you begin collecting it/them? You don't necessarily have to answer all these questions on your layout – they're just here as jumping off points for telling your story.
OPTION 2: Those Who Love Books Too Much
Since the book itself is about books, it seems natural to have Option 2 be to scrap about books. It can be the stack of books that are on your nightstand, a book that changed your life, a favorite bookstore, or the library you love. Anything that has to do with books is game for this option.
Sample for Option 2, about my Elementary Battle of the Books team and how we did at competition this year.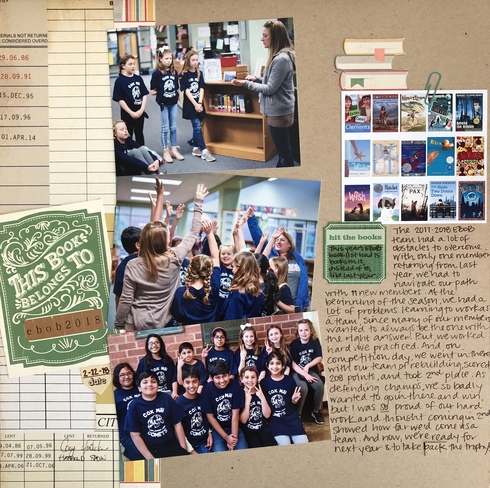 The Fine Print:
1. HAVE FUN MAKING YOUR PROJECT!
2. Entries open to new projects - paper, digital, & card making.
3. May be combined with one other challenge that allows it.
4. Due April 30th, at 11:59 PM.
5. One lucky winner, chosen at random, will receive a $5 ACOT gift card from us!
6. Up to 3 entries permitted per month.
7. A RAK is awarded to a second winner if there are more than 15 unique entries (not including bonuses) during the month.
Participating Cherries:
1. karen c.
2. StacyLee
3. keatonsgtgram
4. keatonsgtgram
5. Retiree3
6. Sandi0805
7. Sandi0805
8. Sandi0805