Thanks everyone for doing my challenge! You ladies really Nailed it. I was very impressed how close everyone was to the original pages. The random winner is Tammey!!
We don't have "real" TV as my dad puts it, so I watch a lot of Netflix shows. One show that I just finished watching was "Nailed It!". This show turns a Pinterest meme into a hilarious competition hosted by Nicole Byer and Jacques Torres. Nailed It! is a Netflix original series which premiered on March 9, 2018. It is a reality bake-off competition where three amateur bakers compete to replicate complicated cakes and confectionery that the host's  find on pinterest, in order to win a $10,000 cash prize.
My challenge to you is go to pinterest and find a scrapbook layout, card, craft, whatever you want and  recreate it BUT unlike other times when we find something we like and we take bits and pieces of it,
this time you need to recreate it as close to the original as you can! I want to see if you can "Nail it!"
Here is my page: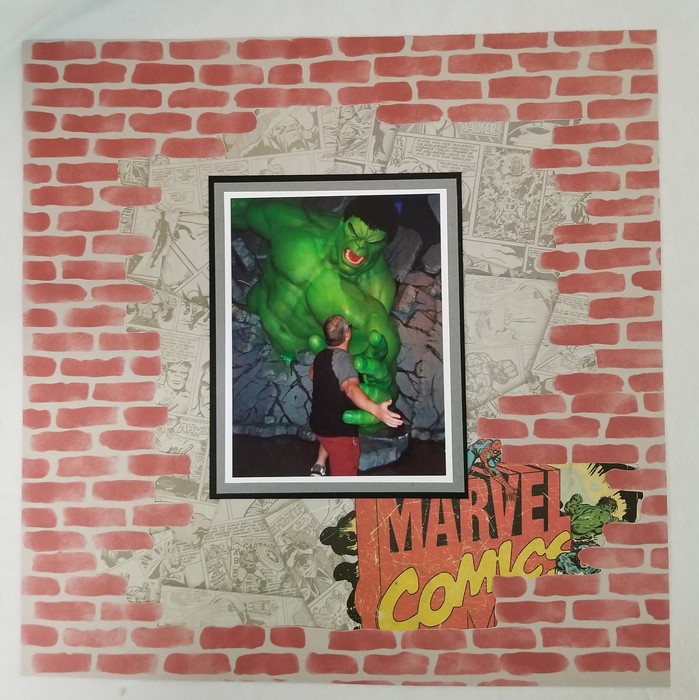 I recreated the brick paper using a stencil and ink, then cut out the middle of it so the paper underneath showed through.
Here is from pinterest:
Now for the rules:
One entry per person
Please use the challenge gallery I have set up in the gallery and post here!
Open to layouts, cards, digital, etc.
You can combine with one other monthly challenge that allows combining,
but no combining with other GD challenges (except the Bingo challenge) or NSD challenges
Deadline is midnight,May 31, 2018
$5 gift certificate provided by ACOT!
and last but not least, have fun!!
Can't wait to see your creations!