So many great choices on singer/songwriters here! I love how you all got your inspiration!

Since I had over 20 entries I'm picking two winners!!

Winner #1, using RandomNum iPhone app, is…
#23 keatonsgtgram

Winner #2, using RandomNum iPhone app, is…
#12 LoreenC

Congratulations to both of you! I have sent out your gift cards. Let me know if you don't receive them.
___________________________________________________
It's finally here Cherries! Sorry for the big delay I have been just so non stop busy this month. Since it's so late in the month I am going to run this through the end of June.
My challenge for you is to get your inspiration from any singer/songwriter. Remember a singer/songwriter is anyone that
writes and performs their own songs
. Some examples are Billy Joel, Sheryl Crow, Adele, Bruce Springsteen, John Denver, Carly Simon, James Taylor, Carol King, Dolly Parton, Jewel, Sara Bareillis, Taylor Swift… there are so many more. You may get your inspiration from any singer/songwriter in any way that they inspire you. It may be a song title, it may be a lyric,  it may be album art, it may be something they have done or something they stand for, it may be the instrument that they pay… anything about them that inspires you. You
do not
have to use a song title or a lyric on your layout, but of course may do so if that is what has inspired you. Just tell us who the singer/songwriter is and how you were inspired by them.
Open to paper, digi, hybrid, cards, crafts, or whatever this inspires you to create.
You may combine with one other challenge that allows it.
Multiple submissions are allowed up to a limit of 3.
Note extended due date:
 You have until midnight (whenever midnight is for you) 
June 30th
to post your submissions to this thread. A random winner will receive a $5 ACOT GC from me!
Most of all have fun!
This is the layout I did. When Sky when was a puppy. Twinkie wanted to play with her all the time and we had to teach her to not be rough with her. We couldn't let her play with Sky unsupervised for a long time. I got my inspiration from the song "All I Wanna Do" by Sheryl Crow. All Twinkie wanted to do was have fun with Sky. So I used the lyric "All I wanna do is have some fun" for my title. I thought it went perfectly with this photo that ds took of the two of them together. Twinkie just looks like that is what she is saying in the pic lol.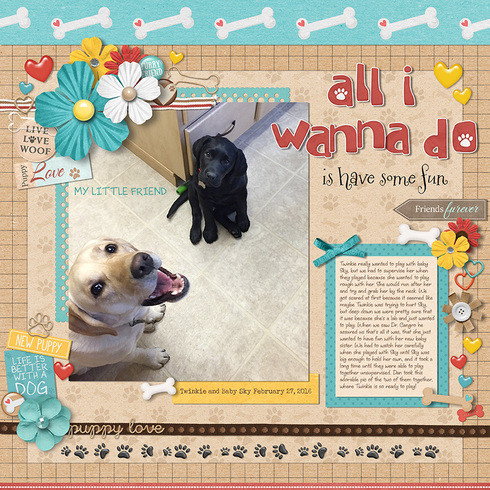 Participants:
1. Deanna13
2. Scrap Bug
3. Deanna13
4. joannie
5. Retiree3
6. joannie
7. Auror Willow
8. Barb Van
9. Barb Van
10. Barb Van
11. lissahope26
12. LoreenC
13. DN in MN
14. emmapaige
15. KrazSparkle
16. blfonty
17. Tammey
18. meterr70
19. suewho372
20. Deanna13
21. blbabe1234
22. Yankeegirl
23. keatonsgtgram