Wow!!!! Once again per random.org the winner of this month's $10.00 gift card is # 6 Retiree3/Donna. Congrats Donna I will send your gift card asap.
For this month you must use the title "My________ Keeper."  Just fill in the blank with your own word. I used brother for My Brothers Keeper. You must also use some enamel dots. Bonus entry if you use some burlap.
sample layout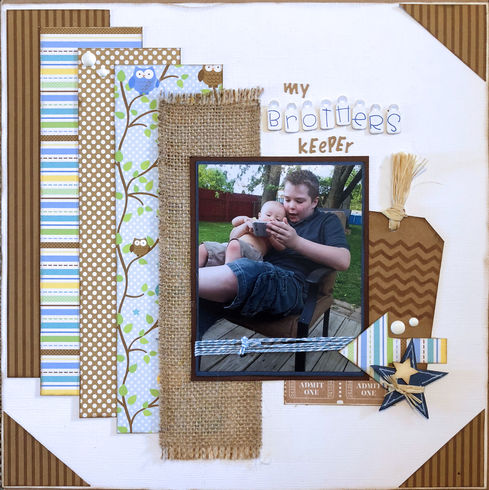 For the fine print....
This can be a paper or digital layout, pocket page, or card.
All work must be new. 1 entry per Cherry.
You may combine with one other challenge that allows that.
Please link your work here. Deadline is July 31, 2018
A random winner will be selected for a $10 ACOT gift card from me! 
***The title I give you must be somewhere on the layout and visible.***
***Please let me know if you do the bonus***
Cherries Participating:
1. meterr70-Terri
2. 1scrapdiva-Robin
3. 1scrapdiva-Robin (bonus for burlap)
4. karen c.-Karen
5. karen c.-Karen (bonus for burlap)
6. Retiree3-Donna
7. Yankeegirl-Kathy
8. Yankeegirl-Kathy (bonus for using burlap)
9. Deanna13-Deanna
10.Deanna13-Deanna (bonus for using burlap)
11. blbabe1234-Brandi
12. Sandi0805-Sandi
13. Sandi0805-Sandi (bonus for using burlap)