The Book Lover's Challenge turns two this month, and to celebrate this, plus the fact that we co-host two challenges we love, Rachel (rachel0017) and I are holding a "Challenge Crossover" where the Book Lover's world and the Movie Madness world collide. We will both be featuring
The Book Thief
by Markus Zuzak. The book was published in 2005 and was made into a movie in 2013, starring Geoffrey Rush.  
The Book Thief
is about Liesel Meminger, a child growing up in Nazi Germany during World War II. As the story begins, Liesel has been sent to live with foster parents, Hans and Rosa Hubermann. In secret, Hans begins to teach Liesel how to read, and she becomes so enchanted with the power of the written word that she begins stealing books the Nazis are burning. When her foster parents provide asylum for a Jewish boxer and family friend named Max Vandenburg, he and Liesel develop a friendship over their shared love of words. Max writes books for Liesel and gives her a blank sketchbook, enabling her to become the author of her own story.  
OPTION 1: The Book Title Thief
For this option, take the title from any book you like, and use it as the title for your page.
I used the book THE MIRACLE WORKER by William Gibson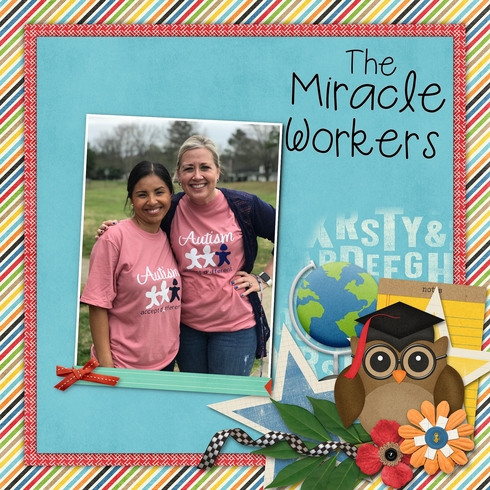 OPTION 2: The Scrap Thief
For this option, scraplift any layout from either my (Rozebud) or Rachel's (rachel0017) gallery. Be sure to include a photo of the layout you lifted. You can link to the galleries from here:
Rose's gallery
Rachel's Gallery
For the bonus, do BOTH the Book Lover's AND Movie Madness Challenges. When you post your second layout, be sure to include a note letting us know that you've done both. You can include a link to your layouts or include photos of both. For example, if you've already done the Movie Madness Challenge and are now entering the Book Lover's Challenge, include a note, link, or photo with your submission saying you've already done the Movie Madness Challenge, and be sure to do the same thing back on the Movie Madness Challenge otherwise Rachel won't know you've submitted to both. This is probably clear as mud, so feel free to ask whatever questions you might have!

Movie Madness Challenge:
viewtopic.php?f=25&t=263767
The Fine Print:
1. HAVE FUN MAKING YOUR PROJECT!
2. Entries open to new projects - paper, digital, & card making.
3. May be combined with one other challenge that allows it.
4. Due June 30th, at 11:59 PM.
5. One lucky winner, chosen at random, will receive a $5 ACOT gift card from us!
6. Up to 3 entries permitted per month.
7. A RAK is awarded to a second winner if there are more than 15 unique entries (not including bonuses) during the month.
Participating Cherries:
1. love2stamp
2.  love2stamp (BONUS)